May 11, 2007 09:21:19 GMT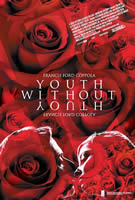 Marking the return of substantial filmmaker Francis Ford Coppola to his homeland after ten years, "", his first effort since 1997's "The Rainmaker", will make its world premiere at Italy's 2nd annual RomaCinemaFest held on October 18-27, sales agent Pathe Pictures International announced Thursday, May 10.

"This film represents a new period in my career, where I intend to make only personal films," Coppola remarked. "I look forward to showing it at this new festival in Italy, whose great masters such as Rossellini, Fellini, Visconti, Pasolini and Antonioni inspired my early career."

May 11, 2007 08:59:25 GMT
Here comes another potential name speculated to be up for directing "The Hobbit" aside from Sam Raimi.

AICN has brought up an interesting tidbit saying that, concurrent with offer made to Raimi, renowned filmmaker Peter Weir is being approached to a possibility to helm the project as well. Weir, a native of Sydney, Australia, made his break in Hollywood through his 1985 effort "Witness" and so far has received five Oscar nominations as director.

May 11, 2007 08:23:26 GMT
Keen to take a departure from his usual comedic fare, Barry Sonnenfeld is in talks to helm a supernatural action-adventurer simply entitled "" at the 20th Century Fox's pit, The Hollywood Reporter has revealed.

A contemporary take on the myth of Pandora's box, the picture follows a college grad with an uncertain future as he is tricked into opening the mythical box and so, unwittingly unleashes the evils trapped within. Doing so, he then must team with Pandora to save the world from destruction.

May 11, 2007 07:57:27 GMT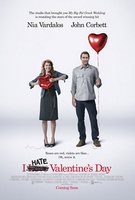 Set to ride on his next big screen vehicle after "", is currently involved in negotiations for the role of a British guy in romantic comedy "", a collaborative production of Blue Star Entertainment and Lorimont Productions.

Already cast in , who also pens the script, the flick centers on a commitment-phobic woman who closely adheres to a set of dating rules but finds them put to the test when she falls for a man who dumps her.

May 11, 2007 06:42:21 GMT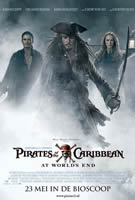 Sad to report, but that's it, there won't be a fourth "Pirates of the Caribbean", producer Jerry Bruckheimer has stated to Australia's Herald Sun upon being asked about the future of the mega-hit series after "." "This is the end," so he told the paper. "This is the end of the trilogy."

Though so, Bruckheimer, however, appears to leave open the coming of any spin-offs of the franchise, saying that it is possible for the moviegoers to see "the characters or a couple of the characters continue on."

May 11, 2007 04:45:50 GMT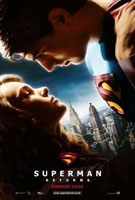 Picking up the best among notable big screen titles and names for its 33rd annual Saturn Awards, the Academy of Science Fiction, Fantasy and Horror Films finally listed out those worthy for the honors in movie categories as it held the ceremony yesterday, May 10 at the Universal Hilton.

Most kudos wonderfully went to Warner. Bros Pictures' "" for the superhero flick made its way to collect five prizes altogether, namely Best Fantasy Film, Best Actor for , Best Director for Bryan Singer, Best Writing for Michael Dougherty and Dan Harris, plus Best Music for John Ottman.

May 11, 2007 04:09:14 GMT
Both have already soared as the hot, bright, young talents of today's Hollywood and it certainly will be such a delight to see them together on one screen, which is likely to be realized soon.

Yes, and reportedly are engaged in talks to take part in historical thriller drama "" that Oscar-winning filmmaker Roman Polanski is set to direct. Pic recently got picked up by Summit Entertainment to be distributed worldwide with RAI Cinema obtaining all Italian rights to it.

May 11, 2007 03:30:31 GMT
Appears to enjoy being extremely busy in his profession as an actor, is reportedly attached to topline a family-oriented comedy entitled "" for Columbia Pictures.

Based on the popular TV series starring Ricardo Montalban that ran throughout 1978-1984, the flick is said to see the funnyman play multiple roles with Jay Scherick and David Ronn penning the script. Ronn and Murphy recently worked together in "" which so far has pulled around $95 million in domestic market.

May 10, 2007 09:51:31 GMT
Ready to establish more than good collaboration between them, and have both inked deals to star together in "Laws of Motion", a comedic feature coming from Plum Pictures, Ideal Partners Film Fund, and Hilary Swank Productions.

In the project, Perry will play a husband struggling with life in a repressive career and community along with headaches caused by his free-spirited brother and sister. Meanwhile, Swank is taking a supporting role as the all-too-perfect neighbor of Perry's harried character.

May 10, 2007 09:33:36 GMT
Set to go wherever rhythm takes her, has landed the female lead in a big screen feature about swing dance entitled "" opposite "The Attic" star Tom Malloy.

Here the beauty is poised to portray a bored-with-life English teacher who befriends a West Coast Swing dancer, played by Malloy, with whom she enters the world Swing dance competition while overcoming obstacles presented by her workaholic fiancee and his former dance partner.

May 10, 2007 09:11:19 GMT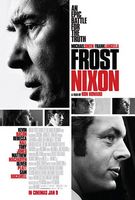 Submitting more actors into the cast, Universal Pictures has picked up , , and to join and in its dramatic feature of "."

An adaptation of the hit Peter Morgan play, the picture will center on a series of televised interviews that President Nixon granted David Frost in 1977, ending with a tacit admission of guilt regarding his role in the Watergate scandal.

May 10, 2007 08:45:06 GMT
Making his way back to the big screen after directing the pilot episode of NBC's military drama series "E-Ring", Taylor Hackford has given his commitment to helm "" for Walt Disney Pictures and Beacon Pictures, Variety has reported.

Based on a true story, the project will follow a South African game preserve owner named Lawrence Anthony as he embarked on a rescue mission to save the animals in the Baghdad Zoo when the invasion of Iraq began in 2003. Beacon chairman Aryman Bernstein penned the screenplay alongside Terry Jastrow while also serving as producer with his partner Charlie Lyons executive producing.

May 10, 2007 07:59:00 GMT
With his well-built figure and acting talent plus a series involvement in action movies, it's no doubt very easy to imagine appear as a superhero character in this heavy flow of projects on the superior beings, and apparently the star himself is aware of it indeed.

Visited on the set of "" in which he plays Agent 23, the wrestler-turned-actor revealed to Steven Chupnick that he is open to the idea of re-teaming with director Peter Segal in "", the filmmaker's next effort telling about Captain Marvel that John August recently boarded to work on its script.

May 10, 2007 07:25:49 GMT
Well, looks like the war between human and machine will still continue at least for three more installments after "." The confirmation is obtained from Derek Anderson and Victor Kubicek, CEOs of The Halcyon Company, following their acquisition of all the "Terminator" franchise rights from C2 partners Mario Kassar and Andy Vajna.

Aiming to build a new trilogy to the series, the pair thereby will make "" as the first leg of the trilogy, which depicts John Connor in his thirties and is leading humanity against the machines that have devastated the Earth with nuclear weapons. Pic is based on script penned by duo John Brancato and Michael Ferris with Moritz Borman producing alongside Anderson and Kubicek.

May 10, 2007 06:36:56 GMT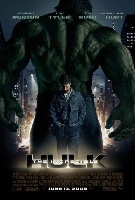 Eventually finds someone perfect to be matched against Bruce Banner, filmmakers of "" have picked up to play the role of Abomination's alter ego Emil Blonsky, Variety has confirmed.

A KGB agent, Blonsky becomes the Abomination after deliberately exposing himself to the same gamma radiation that transforms Bruce Banner into the Hulk. Unlike the Hulk, however, he is unable to change back into his human form due to the use of greater quantity of the radiation. Blaming his condition on Banner, he then makes his best efforts to destroy the man's alter ego.