April 17, 2006 07:29:23 GMT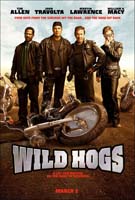 is joining the cast of the upcoming "", so The Hollywood Reporter said. The actor will star in the comedy adventure flick alongside some other actors, including , and .

The story of the Disney project revolves around a group of frustrated middle-aged biker wannabes who hit the open road in search of adventure, only to encounter a real Hell's Angels group. With Walt Becker is in hand directing, filming is scheduled to start next month in New Mexico.

April 17, 2006 05:10:26 GMT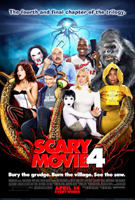 "" apparently isn't as scary as its title. In fact, moviegoers find it amusing, judging from its ticket sales which from Friday to Sunday reached $41 million to open atop the weekend box office in North America. Meanwhile, "," which had been No. 1 the previous two weekends, slips one to No. 2 with $20 million.

No. 3 is "" which takes in another $10 million. New wide release, Disney's animated tale "," debuts at No. 4 with $9.6 million, ahead of "" at No. 5 with $6.7 million. No. 6 is drama thriller "" which taking in $6.3 million, followed close behind at No. 7 is "" with $4.6 million.

April 13, 2006 08:03:42 GMT
At first it was Jay Russell who rode on "". And as the man has agreed to direct the drama action flick, , Ben Chaplin and Alex Etel are all joining him.

Based on the Dick King Smith novel, "The Water Horse" tells the story of a lonely boy in Scotland (Etel) who finds a mysterious egg on the shore of a lake. When the egg hatches, what emerges is a "water horse," a mythical sea monster of Scottish legend.

April 13, 2006 07:39:10 GMT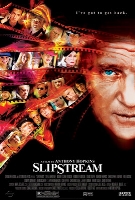 When it comes to "", and Gena Rowlands have both become so interested in it. Even more as the project is of '. Thus the twosome has signed on to star in the upcoming drama flick.

As of the story, "Slipstream" follows aging screenwriter Felix Bonhoeffer (Slater) who has lived his life in two states of existence: the world of reality and the world inside his head. Hired to rewrite a murder mystery set in a desert diner, and unaware that his brain is on the verge of implosion, Felix is politely baffled when the characters from his movie start showing up in his life and vice versa.

April 13, 2006 07:17:44 GMT
Variety brings the news that is about to join and to star in "".

Of comedy genre, the flick centers on a self-absorbed man in his late 20s (Heder) who still lives at home with his mother. The man's world turns upside down when his mother starts dating and considers booting him out of the house.

April 13, 2006 06:24:42 GMT
After creates abuzz in Hollywood film industry with his two films direction, "" and "", Peter Segal is now taking "" as his next project. Besides, he also is giving hand at producing alongside Michael Ewing via their Callahan Filmworks. Elsewhere, set to write the script is William Goldman and Bryan Goluboff.

An adaptation of a DC Comics' comic book, the story of "Shazam!" centers on Young Billy Batson who finds himself gifted with the power of the wizard Shazam to fight against the forces of evil. With the wisdom of Solomon, the strength of Hercules, the stamina of Atlas, the power of Zeus, the courage of Achilles and speed of Mercury, he is the holder of the power of S.H.A.Z.A.M; he is Captain Marvel.

April 13, 2006 03:28:06 GMT
"" will keep busy in the coming days as he's been tapped to star in the action thriller flick.

Based on a script written by Doug Cook and David Weisberg, the story revolves around an American ex-pat who stumbles across a plot to destabilize the world's economy by mass-producing perfect counterfeit greenbacks.

April 13, 2006 03:17:39 GMT
is the "". Not exactly in real meaning, but the actress has signed on to star in the drama flick, which is a fact-based story of a woman who scammed the welfare system out of a fortune.

"Welfare Queen" actually is based on the life of Dorothy Woods. Abdul Williams is writing the script. Keep it here for more details on the film project.

April 11, 2006 06:57:17 GMT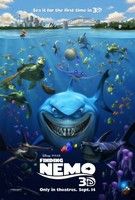 Considering the success of "", the flick is about to be brought into musical version. Featuring original songs by Robert Lopez and wife Kristen Anderson-Lopez, the so-called "Finding Nemo-The Musical" will be debuted at Disney's Animal Kingdom in late 2006.

Speaking on that project, Jay Rasulo, head of Disney World Parks and Resorts stated, "It is our goal to bring the undersea Nemo characters to Disney's Animal Kingdom in a live setting in a way that captures what is truly special about the film. This production will meet that challenge in a dynamic and wholly original way to bring us into the fantastical ocean world."

April 10, 2006 03:58:20 GMT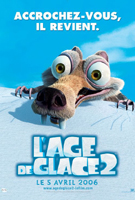 Who's on top of US box office? Believe it or not it's still "". Taking in another $33.8 million in ticket sales, the flick satisfyingly remains the top movie for a second-straight weekend while also is becoming the first movie released this year to cross the $100 million mark at the box office.

Debut at 2nd place is sports comedy "" which takes in $19.7 million and "" is at 3rd with $12.1 million. No. 4 is "," which scores $9.1 million in ticket sales, followed after by "" at No. 5 with $7 million. Secures the 6th place is "" which takes in $4.1 million.

April 07, 2006 06:00:58 GMT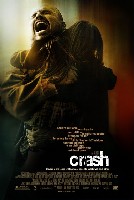 The success of the movie version of "" has prompted a great idea to bring the racial drama into small screen. And as the idea has been put to realization, the project will soon appear on televisions across the U.S. next year.

The film's producer Cathy Schulman remarked "I hope it will air in the next year". Actors from the film, like , , and , reportedly will show up in the TV version. In the meantime, Cheadle also will serve as producer and be on at least a few episodes.

April 06, 2006 08:20:20 GMT
Hollywood actor has been attached by Universal Pictures to star in the forthcoming flick "" soon as the studio has pre-emptively picked up the project from Chris Bowman.

Despite its widely known concept which supposedly is comedy, details on the story are being kept under wraps. Meanwhile, it is said that Heder also is producing with his brothers Dan Heder and Doug Heder via their Universal-based company Greasy Entertainment.

April 06, 2006 04:52:34 GMT
is going to have more and more activities in his agenda. The hip hoper has been attached by Universal Pictures to team up with veteran actor to star in the upcoming drama "".

Based on the life of prison boxing coach Billy "The Kid" Roth, the flick is being directed by John Darling Haynes and produced by Eric Geadelmann. Slated to write the script is Neil Tolkin.

April 06, 2006 03:53:51 GMT
's untitled Paris-set movie apparently has attracted the attention of that she has signed to star in. While details on the story are being kept under wraps, it is obvious that it will focus on young Americans in the City of Lights.

Written and directed by Allen, the movie is being produced by Letty Aronson, Stephen Tenenbaum and Gareth Wiley. Meanwhile, in hand executive producing are Vincent Maraval, Benjamin Waisbren and Daniel Wuhrmann, with production begins in the summer.

April 06, 2006 03:41:18 GMT
Wanna know how it feels to "Become Bill"? will provide the answer soon as he completed the film project.

The actor has signed on to star in the comedy flick, which GreeneStreet Films about to finance and produce.