News
>
Movie News
January 02, 2010 01:08:00 GMT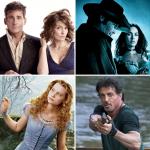 It is a shared fact that Hollywood is running out of fresh ideas, especially seeing that more and more movie makers lately opt to go with remakes, sequels, prequels and some sorts. Nevertheless, as 2009 comes to a close and 2010 creeps closer by the seconds, it becomes pretty clear that American cinema still does have a lot to in stores considering that technology behind movie-making keeps on evolving for better movie experiences.
News
>
Celebrity Gossip
January 02, 2010 00:49:59 GMT
will have to wait another week to learn if he is allowed contact with his wife Broke Mueller after their court date relating to a protection order against the actor was postponed.