News
>
Movie News
September 18, 2006 08:47:48 GMT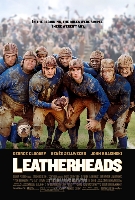 Seems eager to continue taking double jobs, has smoothly signed on to both star and direct Universal Pictures's new project of football-themed film feature entitled "", Variety has reported.

In accordance with this deal, Clooney will also re-write the script while his Smoke House Productions partner Grant Heslov is set to produce alongside Casey Silver with in negotiations to co-star the picture.

News
>
Movie News
September 18, 2006 07:56:19 GMT
Long live the Pirates. After stumbling to number two last week, "" wonderfully strikes back so soundly that it finally has its way to return to the top spot on the international box office on Sunday, September 17, 2006.

Thanks to a record-setting opening in Italy of $12.8 million, the adventurous flick has successfully garnered an estimated weekend haul of $16.5 million from 42 territories, pushing Disney/Pixar's "" back to number two as the animated picture turns out to score $6.6 million from 27 markets.

News
>
Movie News
September 18, 2006 06:51:15 GMT
Things apparently keep heading toward better direction for "", a remake of the 1957 feature starring Glenn Ford in the lead role. Following the willingness of Relativity Media to handle the film's financial matters, Lionsgate has delightfully come in to take the distribution rights to the movie, The Hollywood Reporter has revealed.

Originally placed under Sony Columbia banner, the picture has been developed for four years with plan to start production this past summer, but all got scrapped when the company decided to make its departure from the project.

News
>
Movie News
September 18, 2006 05:02:48 GMT
Looks like sports genre still remains everyone's favorite to look at in theaters. For the second time in the past month, another uplifting football movie has emerged powerfully to take a victory lap on the weekend box office.

Telling about a detention camp probation officer who creates a high-school-level football team from a group of dangerous teenage inmates, "" has delightfully made its way to open strong at $14.4 million during weekend of September 15-17, 2006 to seat firmly on the top of the list, becoming the Columbia Pictures' 10th best opener this year.

News
>
Celebrity Gossip
September 18, 2006 04:17:24 GMT
There it is, after chatters and speculation, it is confirmed already that is romancing .

The partygoer had strongly denied she was dating Travis, but as for now on her representative was forced to admit that the twosome indeed are couple after they were seen kissing.

News
>
Celebrity Gossip
September 18, 2006 03:32:39 GMT
, the lead singer of Irish rock band , brought his fight against AIDS and poverty to Chicago. The rocker and his wife, Ali Hewson, visited the downtown Nordstrom store Saturday Sept 16th to promote a designer T-shirt that will raise money to pay for AIDS medication and medical care in Africa.

The shirts, emblazoned with the logo of Bono's "One" campaign against poverty, are made in Africa by Edun, a fair trade clothing label started by Bono and Hewson. The company will donate $10 for every $40 shirt sold to a fund supporting the health care of the factory workers who make the shirts.

News
>
Celebrity Gossip
September 18, 2006 02:55:04 GMT
Spending more than a week visiting Africa in May earlier this year has given enough spirit to sink deeper into social matter, especially that deals with poverty and AIDS in the country. And thus committed to fight both issues, the actor hosted a fundraiser in Toronto last week to raise money to fight global poverty.

Attended by such famous names as , , and , the event raised almost $1.8 million which will benefit Canada's One X One and the U.S.-based Millennium Promise, headed by United Nations adviser Dr. Jeffrey Sachs.

News
>
Celebrity Gossip
September 18, 2006 02:17:21 GMT
Friday Sept 15th was a bad day for for late night that day she was rushed to hospital after breaking her left wrist at a Fashion Week party.

The actress was rushed to St. Vincent's Hospital in New York after slipping and falling at the city's Milk Studios during a New York Fashion Week event. Lohan's publicist, Leslie Sloane Zelnick, confirms the actress' wrist was fractured in two places when she fell over walking in an outdoor area in flat boots.