News
>
Music News
May 08, 2006 09:15:11 GMT
The never before heard tracks of have been found in the Motown vaults and are due to be released later this year.

The set, which Diana recorded as a companion to her "Lady Sings The Blues" soundtrack, was shelved as she started promoting her hit pop album "Touch Me in the Morning".

News
>
Celebrity Gossip
May 08, 2006 08:44:30 GMT
Already gain success in Hollywood film industry, is now giving hand at something new, starring in TV movie. The actress reportedly is about to make her TV movie debut in "The Mermaid Chair," a Lifetime film based on the best-selling book by Sue Monk Kidd.

A Steven Schachter direction, "The Mermaid Chair" revolves around Jessie Sullivan, a married woman who falls in love with a Benedictine monk, and the crisis and self-awakening it ignites. It will premiere on the women's cable network in September later this year.

News
>
Celebrity Gossip
May 08, 2006 07:17:14 GMT
and were among the many honorees at this year's ALMA Awards held Sunday May 7th, 2006. While Anthony received the Celia Cruz Award for Excellence in Music, Garcia brought home the Anthony Quinn Award for Excellence in Motion Pictures.

Also were honored at the event, which celebrated achievements by Hispanic artists from the worlds of music, television and film, among others were who was honored the Outstanding Musical Performer and Best Spanish Album awards, and who was named Outstanding Musical Performer.

News
>
Celebrity Gossip
May 08, 2006 06:43:32 GMT
Sunday May 7th, 2006 was a happy day for and who at that day got married. The in-love couple tied the knot on a private tropical island in Fiji.

Speaking on her marriage Tori said "We didn't want to wait another day to get married", while McDermott added "I've never had as much of a desire to get married and make a woman my wife as I've had with her. The feeling is overwhelming. We're soul mates."

News
>
Celebrity Gossip
May 08, 2006 06:27:13 GMT
Good news come from and wife Jackie Titone as the couple welcomes their first child ever.

The announcement was made on the comedian Web site on Sunday May 7th, 2006. "Kid is healthy!! Wife is healthy!! He's still a moron and that's all that counts," the site (www.adamsandler.com) said.

News
>
Music News
May 08, 2006 05:00:00 GMT
Slated to perform at this year's Jazz Fest's final day on Sunday May 6th, 2006, Fats Domino has to unfortunately cancel his performance just hours before he was to take the stage. It was all because on that day he was taken to the hospital.

While organizers of the New Orleans Jazz and Heritage Festival did not disclose the nature of his ailments, festival producer Quint Davis revealed "It's more cautionary than anything else" while informed further that Fats Domino was taken to hospital by ambulance on Sunday afternoon.

News
>
Movie News
May 08, 2006 04:22:51 GMT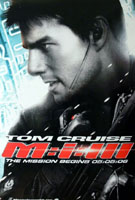 Paramount Pictures' "" scores great in box office. The newly wide release collecting an estimated of $48 million in ticket sales, such amount enough to bring the highly anticipated flick right to the top spot. That really is a solid opening though well below industry expectations and almost $10 million lower than the franchise's previous installment.

At 2nd position is "" which taking in $11.1 million, ahead of "" at No. 3 with $6.4 million. Meanwhile, comedy "" secures the 4th position garnering $5.5 million, while drama "" clings at No. 5 collecting an amount of $5.2 million. At No. 6 is "" taking in $4 million, followed then by "" at No. 7 with $3.9 million.

News
>
Celebrity Gossip
May 08, 2006 04:01:30 GMT
Veteran musician has on Friday May 5th, 2006 been granted an honorary degree from Newcastle University, marks his becoming a Doctor of Music (DMus).

In addition to him, there were also six other people granted the degrees from the institution.

News
>
Celebrity Gossip
May 08, 2006 03:37:19 GMT
and his estranged wife have been awarded joint custody of their daughters Taylor-Ann Hasselhoff and Hayley Amber Hasselhoff.

A Superior Court judge has on Thursday May 4th, 2006 said the actor and actress will have alternating weeks with their daughters and alternate custody annually for holidays such as Christmas and the children's birthdays.

News
>
Celebrity Gossip
May 08, 2006 03:12:09 GMT
Gaining success in such a young age, willingly shares his experience with others. The British rapper has been slated to appear at the Oxford University Students' Union next week, during which he will speak about his life, career, and future plans.

In the accompanying feature, Dizzee Rascal also is planning to release his next album "Maths and English" later this year. In addition to those, the star will be performing a few tracks from the new album, prior to his other performances at the Carling Weekend this August. The appearance is scheduled for May 10, from 8:30 - 10pm.

News
>
Celebrity Gossip
May 08, 2006 02:43:09 GMT
The King of Pop is mad. is "furious" over a series of photos featuring his impersonator in the GQ magazine's May issue.

The photos accompany an article titled "Where's Michael?" which documents writer Devin Friedman's quest to find Jackson in Bahrain, the Middle Eastern country where he lives.

News
>
Movie News
May 08, 2006 02:26:09 GMT
will probably join and to enter "". The actress reportedly is in talks to star in the drama thriller film.

The story of the flick centers on Foxx's character, who is leading an elite team of counter-terrorism investigators trying to find those responsible for a deadly bombing attack on American workers the Middle East. Once inside the previously off-limits desert kingdom, the Americans engage a local police officer to help in their investigation but end up frustrated by bureaucracy and tradition, and find their lives threatened.