News
>
Celebrity Gossip
March 02, 2006 08:46:18 GMT
This is one more wardrobe malfunction after another. This time it's the teen star who did it.

The actress-singer has at the 5th annual Ten Fashion Show held in Hollywood on Tuesday Feb. 28th, 2006 accidentally revealed a little too much of her breast. She, in fact, was unaware until a GM 10 event staff member pointed out her boob.

News
>
Celebrity Gossip
March 02, 2006 08:12:43 GMT
A fan of named Melvin Smith is suing the rapper for assault. Smith filed in a civil suit in Manhattan Supreme Court on Wednesday, claiming Rhymes and his bodyguard Troy Green beat him with their "hands and fists for no rhyme or reason."

Detailing on the incident, Smith's lawyer Bruce Regenstreich said the assault took place at a sandwich shop near New York's City Hall about six months ago. "My client was not aggressive in seeking the autograph," the lawyer said. "Melvin went in to get an autograph and got a knuckle sandwich instead."

News
>
Celebrity Gossip
March 02, 2006 07:44:15 GMT
Actress is threatened to sue Playboy, claiming the publication has used her image for commercial purposes without her consent and causing "immeasurable harm" to her reputation and career.

Earlier this week, the star has through her legal team shot off a legal warning to Playboy Enterprises, accusing Hugh Hefner of placing her image from poster on the cover of the soft-porn publication's March issue without her knowledge or consent and worse making it seem like she appears in a "semi-nude pictorial" within the pages of the magazine.

News
>
Movie News
March 02, 2006 07:21:06 GMT
The Hollywood Reporter brings the news that John Dykstra is set to make his directorial debut on "Tortoise and Hippo" for Walden Media and Relevant Entertainment. It is an animation adventure flick based on a real-life event written by "Shrek" co-writer Roger S.H. Schulman.

Producing the film is Mike Menchel, while Andrew Adamson is still in final negotiations to produce the live-action and photo-real computer-animated film. "Tortoise and Hippo" is slated for a 2007 release.

News
>
Movie News
March 02, 2006 07:07:25 GMT
Adapted "" for New Line Cinema has given Josh Olson more than enough experience to take "Until Gwen" as his next project. The Oscar-nominated screenwriter has adapted and will direct the drama romance movie.

An independent feature based on the acclaimed Dennis Lehane short story, the film is described as a dark crime drama that explores a relationship between a father who is a con man and a son who has been raised on the edges of society, without going to school and without a Social Security number. The relationship turns complicated when the son falls for a woman who helps him find his own identity.

News
>
Celebrity Gossip
March 02, 2006 06:41:18 GMT
After the long circulating rumors and hearsay, the report finally is confirmed. Yes, it is true that former cast members of "The West Wing" are set to return for the White House drama's final episodes.

and friends, including that of , , Tim Matheson, Annabeth Gish, Marlee Matlin, , Anna Deavere Smith, and Timothy Busfield will all flock back to the NBC's set as the political drama nears its finish.

News
>
Music News
March 02, 2006 06:23:47 GMT
The wait is over. Fans of won't have to wait for any longer to hear some new tunes from the band as the Seattle-based super group announced Wednesday it will release its eighth studio album.

The long awaited album set to marry the street on May 2. "World Wide Suicide," the first single from the self-titled album, will be made available to radio stations by March 8, and the same day the song will be available as a free download from the band's Web site, http://www.pearljam.com for two days beginning at 3 a.m.

News
>
Celebrity Gossip
March 02, 2006 06:08:04 GMT
British pop sensation is about to return to reality TV. The girls are set to return in a behind-the-scenes documentary series on E4.

Set to have six parts, the show reportedly will follow the girls' first tour of Australia and New Zealand and will be shown in the UK in May to coincide with their British tour.

News
>
Movie News
March 02, 2006 05:44:35 GMT
Touchstone Pictures and Beacon Pictures are teaming up for the sake of the upcoming film project "." In hand to produce the fact-based comedy is , while Susan Brightbill will write the script, and has been attached to star in.

"Funlady" follows the life of Linda Brewer, an Arkansas woman who raised her daughters by hosting passion parties and selling marital sex toys out of her car. Brewer dropped out of high school when she got married. When she found herself single and in need of a career, she attended a "passion party," the X-rated version of a Tupperware party, and became a pitchwoman for pleasure, thriving in the Bible belt.

News
>
Movie News
March 02, 2006 05:04:28 GMT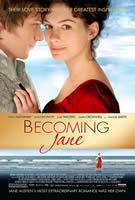 Variety reported that Miramax Films has picked up the North American rights to drama romance "". Tapped to star in the movie are , , , and .

Directed by Julian Jarrold, "Becoming Jane" centers on a love affair British novelist Jane Austen began as a 20-year-old -- with brilliant, roguish Irishman Tom Lefroy -- that inspired her career as one of the world's great romantic writers. Moreover, the film also looks at how the writer's relationship with Lefroy helped create the male characters in "."

News
>
Celebrity Gossip
March 02, 2006 04:40:35 GMT
Bad news come from Twisted Sister. The 80s metal band frontman Dee Snider has released a confirmation that he will undergo emergency throat surgery on Friday to remove a polyp near his vocal chords.

It is reported that following a Jan. 20 concert in Los Angeles, during which Dee's voice gave out, he then went to throat specialist Dr. Gwen S. Korovin. And after a series of tests, the doctor discovered a benign growth near Dee's voice box.

News
>
Celebrity Gossip
March 02, 2006 04:24:42 GMT
, the 'material girl,' is about to make her festival debut April this year, performing at California's Coachella festival. The music goddess has joined the lineup at the 2006 Coachella Valley Music and Arts Festival for the second night of the Indio, California event on Apr. 30.

Surprisingly, that would be her first festival appearance ever. "I've never performed at a festival," the singer confirmed. "And I'm especially excited about playing at Coachella before I start my own tour."

News
>
Celebrity Gossip
March 02, 2006 03:50:41 GMT
Two security guards were shot Tuesday night Feb 28th, 2006 at 's concert in Birmingham, England after a group of people without tickets for the show tried to rush the gate. The men were immediately rushed to hospital, one of them is in a serious condition and still in hospital, while the other one has been released after treatment.

The shooting incident reportedly happened at around 10 PM soon after the two guards ejected a group of ticketless fans. While onlookers claimed there were several people seemingly involved in the shooting, police won't treat it as a gang-related incident. Already arrested one man and one woman who are suspected to be involved in the shooting, police are still continuing their search for the potential shooter.

News
>
Music News
March 02, 2006 03:23:22 GMT
There's a drastic change on the US album chart. Last week's frontrunner 's "Ghetto Classics" tumbles to No. 10 with 59,000 copies in its second round. Meanwhile, the No. 1 position is secured by "High School Musical" by various artists, which jumps five places from previous week position selling 101,000 copies.

Debut at No. 2 is another kid-friendly title, "Kidz Bop 9," with 98,000 copies. To bow at No. 3 is 's "Sing-A-Longs and Lullabies for the Film " which is sold for another 89,000 copies. Another former chart-topper, 's "The Breakthrough" holds firm at No. 4 with 76,000 units, followed behind by 's "Back to Bedlam" which climbs three places to No. 5 with 72,000 copies.