News
>
Movie News
January 21, 2006 05:53:27 GMT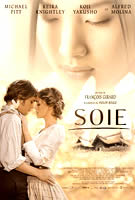 New Line International and Picturehouse, which is the joint distribution venture between New Line and HBO Films, have acquired rights to Francois Girard's "." Based on the bestseller by Alessandro Baricco, the film is slated to begin its production next month in Japan and will wrap in late May in Italy after shoots across Egypt and Asia.

Of drama romance genre, "Silk" is the story of a married silkworm smuggler, Herve Joncour, in 19th Century France who travels to Japan to collect his clandestine cargo. While there he spots a beautiful European woman, the concubine of a local baron, with whom he becomes obsessed. Without speaking the same language, they communicate through letters until war intervenes. Their unrequited love persists however, and Herve's wife Helene begins to suspect.

News
>
Movie News
January 21, 2006 05:02:23 GMT
Mexican directors Jorge Aguilera and Javier Aguilera, sometimes credited as Big Brother, are about to fly the Japanese "Kite." The twosome is said to direct the live-action adaptation of the Japanese anime of the same name.

Joshua Rubin is slated to write the screenplay with Rob Cohen and Anant Singh giving hand at producing. As of its story, the animation thriller flick tells the story a young woman whose parents have been murdered is taken in by a corrupt detective who uses homeless kids to do his dirty work. She exacts street justice against the detective's chosen targets, then turns her talents against him.

News
>
Celebrity Gossip
January 21, 2006 04:38:01 GMT
Lucky that he's been chosen America's Favorite Movie Star for the second year in a row, according to a poll released Friday Jan 20th by Harris Interactive. The survey, involving 1,001 adults, places as second on the list, ahead of and who both tied in 3rd spot.

Rounding out the top 5 is actress . is in 6th place, while is in 7th spot. is 8th, followed then at 9th by , with rounding out the Top 10 list on the poll.

News
>
Movie News
January 21, 2006 04:15:08 GMT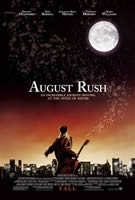 Actress reportedly has signed on to star alongside Jonathan Rhys Meyers in "." A drama movie, the Warner Bros. project is about to be directed by the Oscar-nominated Kristen Sheridan.

The story of "August Rush" centers on August Rush, a young musical prodigy performing on the streets of New York who uses his talent to seek his parents, from whom he was separated after he was born.

News
>
Celebrity Gossip
January 21, 2006 03:57:19 GMT
Producer Gil Cates announced Thursday January 19th that Oscar-winning actor will be a presenter for the 78th Academy Awards Presentation. The actor will then join the many already tapped stars set also as presenters at the prestigious event.

To your notice, Academy Awards for Outstanding Film Achievements of 2005 will be presented on Sunday, March 5, 2006, at the Kodak Theatre at Hollywood & Highland, and televised live by the ABC Television Network beginning at 5 p.m. PST.

News
>
Celebrity Gossip
January 21, 2006 03:40:59 GMT
While Hollywood 'hottest' couple and are expecting their first child together, a judge has granted a request by the actress for her children to take the surname of their adoptive father Pitt.

Following Thursday's Jan 19th court hearing in Santa Monica, Jolie attorney Evan Spiegel revealed that the children name from that point on will become Zahara Marley Jolie-Pitt and Maddox Chivan Jolie-Pitt. Though, neither Jolie nor Pitt was seen attending the hearing.

News
>
Music News
January 21, 2006 03:04:21 GMT
As an attempt to embrace more success with his second solo album, pop singer is embracing a trio of producers to help him finishing the set, which is expected sometime this year via Jive Records.

Besides uber-producer Rick Rubin, Timberlake also is recruiting and the ' . Being asked about the singer's new set, will.i.am said "I can't explain it, that's how dope it is."