News
>
Celebrity Gossip
December 16, 2005 09:34:44 GMT
, the actor best known for his action in "" movie, reportedly is planning to propose his girlfriend of two years, Jennifer Meyer. Still according to rumors, the idea to pop up the question came after Maguire learned that his best pal 's romance with had fizzled out.

A source quoted as saying "Leo is still down about losing Gisele, and he told Tobey that if he really loves Jen, he should step up to the table and not twiddle his thumbs about marriage. He told me he absolutely wants to marry Jennifer in the coming year. He doesn't want to lose her! I think she'd marry Tobey in a second!"

News
>
Movie News
December 16, 2005 08:53:42 GMT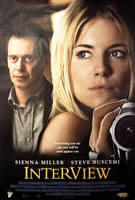 English model and actress is on board for the "." She reportedly is joining in the upcoming drama flick which Buscemi himself about to direct along with and Bob Balaban.

"Interview" actually is one of a trio of films by late Dutch filmmaker Theo van Gogh that follows a top political journalist whose career is fading. First, he has a falling out with his editor, and then, against his will, he has to interview the country's most popular soap actress.

News
>
Celebrity Gossip
December 16, 2005 08:19:06 GMT
Another news from our socialite . She and several other celebrities have been included in People for the Ethical Treatment of Animals (PETA) yearend Worst Dressed poll. "Now we know what happens to all of Paris Hilton's cast-off pets." So PETA said about the hotel heiress who's reigning the top position of the poll.

Following her at 2nd position is her best pal . Other names listed on the poll, include Lisa Gastineau, Victoria Gotti and , all of whom have been poked fun by PETA due to their "tacky affinity for fur."

News
>
Movie News
December 16, 2005 07:48:47 GMT
Successfully generated more than $25 million in print sales, the popular comic book "" is about to be made into a big-screen production by Hong Kong-born directors Danny Pang and Oxide Pang. Both men even have signed deal on the project, which is about to be released in 2007.

Scott Rosenberg, who's taking the producer seat, revealed that the game and film would have different story lines. By means of which, the game will focus more on action and fighting, while the film will serve as an origin story for the central character, Jackie Estacado. Casting not yet underway neither does any other details.

News
>
Movie News
December 16, 2005 07:34:30 GMT
Alice Wu gets involved with "Foreign Babes in Beijing." A difficult job to do of course, but she's signed on to write and direct as well.

Based on Rachel DeWoskin's memoir "Foreign Babes in Beijing: Behind the Scenes of a New China," the story of the film centers on a young American woman who moves to Beijing and becomes famous playing a vixen in a Chinese soap opera.

News
>
Movie News
December 16, 2005 07:11:18 GMT
Previously worked on "The Best Man," Malcolm D. Lee is now set to direct "The Better Man." Taking the producer seat for Universal Pictures is Scott Stuber, Mary Parent, and Charles Castaldi.

A drama genre, "The Better Man" follows the story of a successful Los Angeles comedian who reluctantly heads back to the South with his wife and son to reunite with his family. There, old rivalries heat up.

News
>
Celebrity Gossip
December 16, 2005 06:41:20 GMT
To love somebody costs something. Though, it's just okay for Hollywood actor who willingly pays such an expensive cost for the one he loves, a girl of course. Her name is , who none other is one of the most appreciated Czech models.

The movie star reportedly desperately wants to loose his heart to the stunning model that he's been trying to get hold of her telephone number just to ask her for a date. What's more, Willis has even donated $50,000 to charity at the Light of Heart benefit gala to impress her.

News
>
Celebrity Gossip
December 16, 2005 06:20:01 GMT
To be contrary with the recent statement she made indicating that she wants to have children next year, has laughed off reports that she is pregnant with 's baby.

To notice, Jenn told America's In Style magazine as quoted "You just wake up one day and you start to feel like, yeah, I think I'm open to that now. It's not mapped out. It just sort of happened. I hope to be on the road to having a family in the next year. Ideally, I'd like to have a couple (of children), but who knows? That's part of the unknown that I like."

News
>
Music News
December 16, 2005 04:42:09 GMT
Amidst the preparation for their North American tour next month, has proposed such music acts, like California rockers and country duo as some of their tour's opening acts.

The tapping of the music performers has been confirmed by the Stones publicist on Thursday, adding that country veteran , New Orleans funk veterans The Meters, and all-girl rock group Antigone Rising also will perform.

News
>
Celebrity Gossip
December 16, 2005 04:14:09 GMT
. Everyone knows her. She is a very famous pop superstar whose name has been a worldwide icon. Thus, it is understandable then that Britney Spears comes up as the Most-Searched Name on the Internet.

The diva's name indeed tops Yahoo's annual list of the Most-Searched for Names on the Internet, beating out some other popular names, like who is at second on the list. Coming up as the 3rd is Cartoon Network, which produces a series of risque cartoons aimed at adults.

News
>
Music News
December 16, 2005 03:50:34 GMT
The Billboard Hot 100 singles chart again is topped by rookie R&B singer , whose track "Run It!" holds firm at No. 1 for a fifth straight week. Followed behind at No. 2 is 's "Don't Forget About Us" which jumps five places from number seven.

's "Laffy Taffy" falls one slot to No. 3 on the Hot 100 this week, while 's "Grillz" featuring ups seven places to No. 4. 's "Photograph" downs to No. 5, followed by 's "Gold Digger" featuring at No. 6.

News
>
Celebrity Gossip
December 16, 2005 03:05:23 GMT
The long going custody battle happened between and finally came to an end following a hearing in a Los Angeles court. Back then to the root of the battle, the couple has been involved in the on/off court feud since January last year, fighting for the custody battle over their 10-year-old daughter Ireland.

Baldwin got Basinger back into court last month claiming she violated a court-imposed custody order this summer. Moreover, the actor also accused Basinger of turning his daughter into a spy, claiming the girl called her mother too often when visiting him in order to turn in "reports" on his actions. Apparently, Baldwin has allegedly spent over $1 million fighting the case.

News
>
Celebrity Gossip
December 16, 2005 02:38:27 GMT
Late news mentioned that has been proposed to star in a new reality show about his life after the trial and his future comeback. Working behind the project is music producer Michael Rooney.

As of the plot, the reality show will follow the sons of Jackson's brother Tito, reunited under the name of 3T, as they try to break into the music business. Relatives including LaToya and Jermaine Jackson also about to star in.