News
>
Movie News
October 18, 2005 09:48:57 GMT
Considering the incredible success of "The Eye 2," Gold Circle Films and Vertigo Entertainment are teaming to produce its remake. Entitled "," the film is about a pregnant woman who has a near-death experience that results in her seeing dead spirits.

Will adapt the film is screenwriter Todd Stein, with Gold Circle financing the around $25 million film.

News
>
Movie News
October 18, 2005 09:30:03 GMT
It is apparent already from the title that it is a horror flick. "Dark Corners." What do you think about that? Quite frightening? Challenging? Or what? Anyway, don't say a word before you watch it.

"Dark Corners," written and directed by Ray Gower, is the story of a troubled young woman who falls asleep and wakes up as someone else, stalked by hideous creatures. Set to star in is and .

News
>
Movie News
October 18, 2005 09:10:34 GMT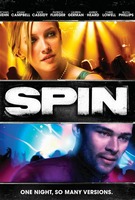 Christensen and Phillips? They are here. Yes both of them are set to star in the forthcoming drama "You Are Here."

Henry Pincus wrote the script and will direct the film. "You Are Here" tells about a group of twenty-something, nightclub-going friends who wake up after a wild night on the town to find their lives in chaos. As they contact each other to figure out just what happened the night before, they begin to understand that they're affecting each other in ways they couldn't possibly imagine.

News
>
Movie News
October 18, 2005 08:50:32 GMT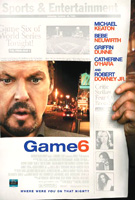 Kindred Media Group is about to play the 'game.' The movie studio has acquired North American distribution rights to "," a comedy drama flick which is directed by Michael Hoffman and starring the like of and .

The film is based on an original screenplay by acclaimed novelist Don DeLillo and produced by Amy Robinson, Griffin Dunne, Leslie Urdang, and Christina Weiss Lurie. The story of the film begins when on the eve of the opening of his newest play playwright Nicky Rogan is fixated on failure. But not without reason. As Rogan's day begins, his marriage is in shambles, his lead actor has a parasite in his brain causing him to forget his lines, there is asbestos in the air, and he is terrified of the feared critic Steven Schwimmer who is so hated that he's taken to carrying a gun to the theatre. All of this and it just so happens to be October 25, 1986. A day that every Red Sox fan will never forget. And Nicky Rogan has been a die-hard Red Sox fan forever.

News
>
Celebrity Gossip
October 18, 2005 07:46:31 GMT
The Voodoo Music Experience, which previously scheduled to take place in New Orleans on October 29-30, has been moved to another city due to the Hurricane Katrina. Yet the show must go on and so it will be held on October 29 in New Orleans and the following night in Memphis.

Has been tapped to perform is who will play both nights. Also confirmed to play in Memphis among others are Secret Machines, , North Mississippi Allstars, New York Dolls, Carl Cox, Better Than Ezra, and HIM. Proceeds from the Voodoo Music Experience will benefit a host of Katrina-related charities, including the New Orleans Restoration Fund, Habitat for Humanity and Bring New Orleans Back.

News
>
Celebrity Gossip
October 18, 2005 07:23:53 GMT
Guys don't go anywhere in the upcoming new year eve coz there will be rockers at New York's Madison Square Garden. You better watch their performance, for which the reuniting rock act has tapped and the North Mississippi Allstars to mark the happy day.

The band is now in the midst of the last leg of their scheduled tour, which encompasses a five-night stand at Los Angeles' Henry Fonda Theater beginning Tuesday October 18. No shows are scheduled between an October 31 Halloween gig in Chicago and the New Year's concert.

News
>
Music News
October 18, 2005 04:52:00 GMT
Years after his death, fans of reggae legend still have something that reminds them of him. The late singer apparently left a never-before-released song, believed to have been recorded in a Miami bedroom in 1979, which will be available on the upcoming compilation "Africa Unite: The Singles Collection."

The set, due November 8 via Island/Tuff Gong/UME, includes "Slogans," the master tape of which was discovered by Marley's sons Ziggy and Stephen in 2003. Also it will feature early recordings as well as Marley's biggest hits, which is rounded out by a new remix of the title track from the ' will.i.am plus Ashley Beedle's mash-up of "Get Up, Stand Up" and 's "Welcome to Jamrock."

News
>
Celebrity Gossip
October 18, 2005 04:11:55 GMT
They're very representative and qualified enough, hence the Pepsi company pointed their finger at them, offering singers and member Liam Gallagher to team up for their new advertising campaign.

As said by an insider the new campaign is about Pepsi used as a cocktail mixer at the parties, and the company wants the two artists to give it a new rock 'n' roll wilder and more controversial image. Yet, the two of them have yet out an agreement.

News
>
Celebrity Gossip
October 18, 2005 03:48:33 GMT
Unlike many other companies who decided to dump supermodel following her cocaine scandal, tire giant Pirelli will keep her somehow. Not without reason but they have their own concern about that and it's about economics tenet.

To note, Moss has shot the calendar for Pirelli in France, before the coke scandal begun. And according to Pirelli bosses it would be too costly to re-shoot the £1million glamour publication. Thus, instead of dropping Moss from the company they prefer to keep her. As Pirelli UK boss Julie Naylor has stated: "Her private life is no concern of ours." What do you think? Well at least her life isn't that bad.

News
>
Movie News
October 18, 2005 03:25:28 GMT
Soon as was officially announced to be the next 007 agent, the casting to star in the highly anticipated "" continues. It is reported that the film producers have referred to actress as "perfect" for the role of Vesper Lynd, a Russian double agent who beds James Bond.

Some other actresses reported to be the new Bond girl among others include , and . Elsewhere, singer also is eyeing to get the part.

News
>
Music News
October 18, 2005 03:04:08 GMT
It's been 10 years that doesn't produce an album. Now the time has come for him to share "A Time to Love," his new album due in stores on October 18th. Speaking about the long time he needs to complete the album the singer says "I wanted it to sound contemporary but still be me. It was just a matter of getting it right."

What is so special about the album is that it contains 15 original tracks of all genres, from hip-hop, gospel to world music, with some arrangements using strings. What's more it also features some guest vocalists, like gospel artist Kim Burrell, on the anthemic "If Your Love Cannot Be Moved" with choir vocals produced by and India Arie, on the title track.

News
>
Celebrity Gossip
October 18, 2005 02:45:03 GMT
Fox said last week it had canceled "The Simple Life" because its midseason schedule didn't have a time slot for a fourth season of the show. This then sparked speculation on the end of the show due to the stars and feud.

Surprisingly, Paris herself stated Monday that the show isn't done yet saying "We're shooting Nov. 1. All the networks are fighting over it." Further the socialite ensured fans that she and Richie will continue working on "The Simple Life" because other networks want it.

News
>
Celebrity Gossip
October 18, 2005 02:20:14 GMT
Fatboy Slim is collaborating with Talking Heads frontman David Byrne to write a musical about former Philippine first lady Imelda Marcos, to be shown next March at the Adelaide Festival in Australia. Titled "Here Lies Love" the musical will focus on Imelda's love for music and nightclubs.

Speaking about the project, an Adelaide Festival spokesman explained "She loved the nightlife in all parts of the world, and in New York at Studio 54, so much so that she installed a disco in her NYC townhouse. It was a non-stop party, featuring politicians, arms dealers, financiers, artists, musicians and the international jet set."