News
>
Movie News
October 14, 2005 09:51:00 GMT
Do Warner Bros. Pictures want to kill him? No, of course not. The movie studio just wants Fernley Phillips to write the adaptation of "You Want Me to Kill Him?" The drama thriller is based on Judy Bachrach's article "U Want Me 2 Kill Him?," published in the February edition of Vanity Fair.

"You Want Me to Kill Him?" is a true-life tale that chronicles a strange Internet relationship between a 14-year-old loner and a 16-year-old in which the younger boy wound up being stabbed twice and nearly killed by the older boy. In hand to produce the film is Bryan Singer.

News
>
Movie News
October 14, 2005 09:36:39 GMT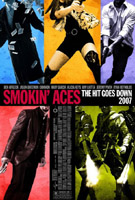 One more action comedy flick that Universal Pictures offers to moviegoers. It's titled "." The story centers on an FBI agent hunts for a Las Vegas stand up comedian who has decided to squeal on the mob but, before he heads off for protective custody, decides to go to the casinos at Lake Tahoe for one last good time, drawing a crowd of assassins.

Has been attached to star in is . The actress is set to portray the FBI director who tries to keep the cocky entertainer around long enough to testify. She will join other like , , and .

News
>
Movie News
October 14, 2005 09:20:10 GMT
has more than one new project to finish. The actor has inked a deal with Universal Pictures to write his own comic vehicle, which is untitled and based on his original idea. Moreover, both parties also reported to have bought "" of Mark Gunn and Brian Gunn.

Carell himself alongside Mary Parent and Scott Stuber will produce either project. As of "Juvenile" it is categorized as a drama comedy, in which Carell is set to play the most Caucasian man in America, who's sent to juvenile prison for a petty crime he committed as a kid. Then suddenly this suburban drip is surrounded by 11-year-old bad-asses.

News
>
Music News
October 14, 2005 08:55:12 GMT
With a new lead singer J.D. Fortune, who was chosen by the viewers of the CBS reality series "Rock Star: ," the music group repeats their previous success to be included on the Billboard Hot 100 singles chart. Their single "Pretty Vegas" gives the Australian-based rock act the highest debut of its career at No. 37. What an attainment.

Apart, the band is reported to keep their promise to invite "INXS: Rock Star" runner-up Marty Casey to support their upcoming US tour. Won't miss the great opportunity, Casey will take his band The Lovehammers with him on the tour. He says "Being the opening act is really the best possible scenario for me. I've been with my band for 15 years and now I get the best of both worlds."

News
>
Music News
October 14, 2005 08:32:30 GMT
Heart is the word that American Idol winner chooses to name her debut album. It's completely dubbed "Some Hearts" and will hit stores November 15.

The set will among others include the lead single "Jesus Take the Wheel" and her hit "Inside Your Heaven," which debuted at No. 1 on the Billboard Hot 100 singles chart. Also it covers single "What Else You Got" and "I Ain't in Checotah Anymore," which is an acknowledgement to the singer's Oklahoma hometown.

News
>
Music News
October 14, 2005 07:58:17 GMT
He's just too strong to be beaten by any other musicians whose singles also on the chart. Albeit many new comers entering the Billboard Hot 100 singles chart, the rapper keeps digging the first place. 's "Gold Digger" featuring still the No. 1 on the chart for a sixth week Thursday. Meanwhile, 's "Photograph" ups just one to No. 2, switching place with whose "Shake It Off" downs one to No. 3.

Secures the 4th place is ' "My Humps," followed by "Like You" by featuring at No. 5 and 's "Wake Me Up When September Ends" at No. 6. Rounding out this weekend Top 10 is 's "Soul Survivor" featuring at No. 7, ahead of 's "Run It!" jumps three to No. 8. is at 9th with "Because of You" and 's "Play" holds the No. 10 spot on the Hot 100.

News
>
Celebrity Gossip
October 14, 2005 07:33:10 GMT
Days after he dumped dishonest , was spotted together with another woman. Who is she? It's sexy actress .

Both of them were spotted having fun together in a Paris nightclub. Are they dating? No one knows, but they do. Yet, we better wait what they'll say.

News
>
Celebrity Gossip
October 14, 2005 04:56:52 GMT
drummer was taken to hospital after a stunt went wrong during the band concert in Casper, Wyoming. It was all began when Lee thrilled fans by swinging from a cable several feet above the stage and there faulty pyrotechnics exploded beneath him, burning his arms and face.

The band singer Vince Neil said "He didn't look good while the paramedics were treating him backstage, so we chose to err on the side of caution and send him to the hospital." Yet, after the incident Lee still played one more song before the concert was cut short with Neil interrupted the gig to tell the audience they couldn't perform because Lee was injured and needed medical attention. Let's hope and pray for his full recovery.

News
>
Movie News
October 14, 2005 04:40:12 GMT
Having a baby in her womb is something new for . Soon mothering an offspring is an exciting experience she's waiting for. Thus, she wants to enjoy every minute to focus on her pregnancy.

Due to that fact, the actress reportedly has pulled out of the project "Shame on You." In fact, Quaid publicist who also is writing, directing and starring in the film, refused to comment on Holmes' reported exit.

News
>
Celebrity Gossip
October 14, 2005 02:02:16 GMT
Marriage is a lottery so be ready to lose. You know right, the "Beverley Hills, 90210" star is heading for divorce. Her husband, Charlie Shanian, filed for divorce Thursday in Los Angeles, not only wanting to end their 15 months marriage, he also is seeking spousal support. None of them gave an immediate comment on the divorce.

It is reported that Spelling, who since early August has separated from Shanian, fell in love to , her co-star in the TV movie "Mind over Murder," while she was in Canada for three weeks filming the related project. However, both of them denied their romance had anything to do with Spelling divorce, despite the fact that McDermott also has filed for divorce from Mary Jo Eustace, her wife of 12 years who has given birth to their two children.