News
>
Movie News
October 07, 2005 08:50:28 GMT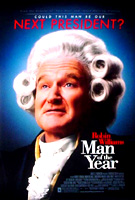 is a comedian and he's successfully chosen for "." Just like his previous films, this one also is still a comedy genre. The film, financed by Morgan Creek, will have Barry Levinson wrote the script, star in, and direct as well.

"Man of the Year" centers on a Jon Stewart-like host of a late night political talk show who runs for president to make noise on the campaign trail. The stunt backfires after a series of unusual circumstances leads him to victory.

News
>
Celebrity Gossip
October 07, 2005 08:27:28 GMT
We'll tell you what is behind the curtain of the Latin Grammy Awards to be held next month in Los Angeles. There is a line of artists waiting for their turn to show up in front of public worldwide.

There are among others Bebe Manga, Intocable, La Ley and to perform at the event. Also, we can see , and among the presenters. The awards show, held Nov. 3, will air live on the Univision Network from the Shrine Auditorium.

News
>
Movie News
October 07, 2005 08:06:48 GMT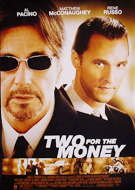 The drama-thriller-comedy "" will see , and team up, displaying their best act ever. Fans of the three actors can see their idols act as the film opens nationwide on Friday, October 7.

"Two for the Money" follows Brandon Lane, the role played by McConaughey, a former college football star whose uncanny ability to predict the outcome of a game introduces him to an unexpected new career when his gridiron glory is sidelined by a crushing injury. Brandon's talent makes him a prime candidate for recruitment by Walter Abraham, Al Pacino's role, the head of one of the biggest sports consulting operations in the country. Walter hires the small town ex-athlete and grooms him into a shrewd front man. Brandon soon begins to enjoy his status as a Manhattan golden boy and finds himself growing comfortable with Walter's high-rolling lifestyle. The surrogate father/surrogate son relationship fattens Walter's business and personal accounts until Brandon's golden touch begins to falter at the same time that Walter's manipulation of his protege crosses the line.

News
>
Music News
October 07, 2005 07:35:08 GMT
It's been five week, but the "Gold Digger" still ruling. The single of featuring again stays on top of Hot 100 singles chart Thursday. As strong as the rapper is pop diva , whose "Shake It Off" sits at No. 2 of the chart for a sixth. Just behind is Canadian rock band 's "Photograph" ups one place to No. 3.

"Like You" by drops one place to No. 4, ahead of "My Humps" by the which remains at No. 5. 's "Wake Me Up When September Ends" and 's "Play" each ups one to No. 6 and 7 respectively. In time, 's "Soul Survivor" featuring rising eight places to No. 8. At no. 9 is Carey's former chart-topper "We Belong Together," followed behind by 's "Sugar, We're Goin' Down" at No. 10.

News
>
Music News
October 07, 2005 07:13:57 GMT
The special concert punk rock trio previously scheduled for next Tuesday in Los Angeles will take place at the Wiltern Theater. Those interested to attend can buy tickets, priced at $45 each, beginning Monday through Ticketmaster and the Wiltern box office.

The gig will be broadcast on AOL Music LIVE! (http://www.aolmusic.com), a digital entertainment network that distributes live events through such outlets as the Internet, satellite radio, video-on-demand, wireless and high-definition TV. In related news, Green Day will on November 15 release their "Bullet In A Bible" concert CD/DVD. Don't miss it.

News
>
Celebrity Gossip
October 07, 2005 06:53:48 GMT
Another day another new story for and husband . The couple who has just welcomed their son, Sean Preston, is hit with another new problem. Now what? It's reported that the couple already made a raunchy sex tape.

Unfortunately for them that the tape is now floating around. The tape reportedly filmed while Britney was still expecting son Sean and was allegedly nabbed by their worker. Worse, the couple's attorneys also viewed the video. See if you can get it on eBay.

News
>
Movie News
October 07, 2005 06:30:51 GMT
If you can't see your idol now, it's okay. You can see him later, soon in the near future, playing in Walt Disney Pictures musical "." The movie is based on Cecelia Ahern novel of the same name. Jackman himself will produce the film alongside Craig Zadan, Neil Meron, and John Palermo.

"If You Could See Me Now" will follow the character portrayed by Jackman, who would play the imaginary friend of a lonely 6-year-old who has been left behind by his mother and is being raised by his aunt. The twist occurs when the aunt can suddenly see the imaginary friend, and a romance blossoms between them.

News
>
Movie News
October 07, 2005 06:14:32 GMT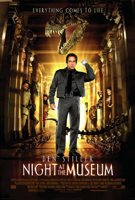 What would you do if you get the chance to spend night at the museum with Shawn Levy? Anyway, that question has nothing to do with the upcoming action-comedy-family film "The Pink Panther" director has signed on to direct.

The "" revolves around a hapless museum guard at a natural history exhibit who unwittingly triggers an ancient jinx that animates the long-deceased critters and brings chaos to the city. Has been attached to direct is Stephen Sommers. How would they spend the night? We'll see soon as the movie comes in theaters.

News
>
Movie News
October 07, 2005 05:51:54 GMT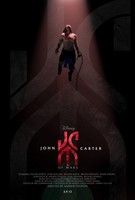 Have you ever traveled to Mars? If you're yet going there, you can fancy of going to that place. However, there's a better idea than only imagining, watch the upcoming movie "John Carter of Mars."

"John Carter of Mars" is a sci-fi film based on Edgar Rice Burroughs' novel of the same title, which story centers on Civil War vet John Carter who is transplanted to Mars, where he discovers a lush, wildly diverse planet whose main inhabitants are 12-foot tall green barbarians. Finding himself a prisoner of these creatures, he escapes, only to encounter Dejah Thoris, Princess of Helium, who is in desperate need of a savior.

News
>
Celebrity Gossip
October 07, 2005 05:06:18 GMT
Welcome to the world Bratt Jr. The baby boy, the child of actor and wife Talisa Soto, was born Monday in Los Angeles, weighing 7 pounds, 7 ounces. The newly born child is the second for the couple who has had a daughter, Sophia Rosalinda, who will be 3 years old on Dec. 6.

The happy couple met while filming "Pinero," the story of poet-playwright-actor Miguel Pinero. Congrats anyway.

News
>
Celebrity Gossip
October 07, 2005 04:37:17 GMT
The band was playing the music, the vocalist singing the song, and the attendance enjoying the beat. The atmosphere of concert Thursday night at the University of Virginia was interrupted in a sudden when lead singer Mick Jagger announced that authorities had told them to take a break.

Soon thereafter, several police officers and three bomb-sniffing dogs searched the stage, while the first 20 rows of spectators at the university's 61,000-seat Scott Stadium were cleared until police finished their work. None of them knew what was happening, while no explanation given about the incident. Apart, the band then continued their show after about a half-hour intermission.

News
>
Celebrity Gossip
October 07, 2005 04:14:15 GMT
As for "Newlyweds" and these days are so difficult to be passed. They have to be tough or they'll be losers. Just days after being forced to deny the many media publication reported they're heading for a divorce, the husband-and-wife is now faced with another accusation pointed to Lachey.

The man has been reported to have seduced a college student last month. Danielle Calo, a 19-year-old Ohio State student, made an admission to America's Star magazine that after meeting with Lachey at a high school football game in Columbus, Ohio, on September 9, she was invited to the star's hotel room, where he told her she was "really hot" before making a move on her.