News
>
Celebrity Gossip
August 15, 2005 03:32:41 GMT
Diva from the block, , has been chosen by Time magazine as one of influential Hispanics. The Latin beauty is one among the nation's 25 Most Influential Hispanics according to Time Magazine, which among others include Los Angeles mayor Antonio Villaraigosa, Attorney General Alberto Gonzalez, American Civil Liberties Union executive director Anthony Romero, actress , broadcaster Jorge Ramos and fashion designer Narciso Rodriguez. According to the explanation given by the magazine, Lopez was chosen for her rise from background dancer to chart-topping actress and singer.



News
>
Celebrity Gossip
August 15, 2005 03:06:46 GMT
A mom named Barbara Michalik, in December 2003, filed a claim in the Supreme Court of New South Wales naming , its personnel, and their show promoters, to have all caused her daughter's death. The victim, Jessica Michalik, 16, died after being trampled by fans at the "Big Day Out" festival in Australia on January 26, 2001.

The suit, further, claimed Limp Bizkit singer Fred Durst "incited" the crowd to rush toward the stage. So, the girl's mom asking for compensation from the band. Just now, Pennsylvania-based Diamond State Insurance Co. that issued a policy for Limp Bizkit is asking a judge to rule it has no liability for any damages awarded as the result of Jessica's death. The suit in Los Angeles Superior Court said the band was not charged with any wrongdoing.

News
>
Celebrity Gossip
August 15, 2005 02:54:46 GMT
' residence, Lewis' Nesbit, which piano-shaped swimming pool and his antique car collection have attracted tourists to drive by and see it, has been closed to the public for more than a year during his lengthy divorce proceedings with his sixth wife, Kerrie McCarver Lewis. Phoebe, Lewis' daughter, told the DeSoto Times Today "This is a private residence now. We don't plan to open it back up."

Lewis bought the 15-room house on 30 acres in April 1973 and it's been opened for tours when his fan club was under the direction of Kerrie McCarver Lewis, who is now no longer manages the Jerry Lee Lewis fan club. And so, the building will still be listed as a tourist destination, said Kim Terrell, DeSoto County Tourism Association director.

News
>
Celebrity Gossip
August 15, 2005 02:29:51 GMT
Deeply concern about the needing people in Africa, former front man is donating proceeds from sales of a four-song CD to an Arizona-based charitable organization that aids people in remote regions of Ethiopia, Mali and Niger. The CD by Plant and his backup group, Strange Sensation, consisting performances of "Shine It All Around," "Freedom Fries," "Tin Pan Valley" and "When the Levee Breaks."

Moreover, the recorded on June 9 CD will be available by disc or computer download on the singer Web site. "It's all about, I think, increasing awareness, breaking away from the usual sort of news reel approach to human disasters, if you like; illuminating and exposing these conditions from a different angle," so Plant told the East Valley Tribune.

News
>
Movie News
August 15, 2005 02:10:08 GMT
The remake of the 1973 sci-fi thriller "" is going to go ahead, this time without . The actor was about to co-produce and appear in the movie, but those plans were put aside after his 2003 election.

As for Arnold, he doesn't have any further discussion concerning his involvement in the movie. "It's not even on the governor's radar right now," spokeswoman Sheryl Main said. Per Daily Variety Friday, Tarsem Singh has been chosen to direct the film, but there's no word yet on when "Westworld" is going to be released.

News
>
Movie News
August 15, 2005 01:53:51 GMT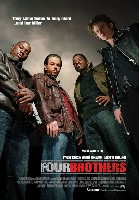 "" has just been released for three days, yet its ticket sales has reached $20.7 million, leading the revenge drama to top this weekend box office. "" opens in second place with 15.8 million dollars and last week's champ "," slips to third, taking in about 13 million dollars.

"," which ticket sales reaches $12 million is at 4th, while "" is No. 5 with $9.4 million. At six with $7.3 million is "," which soon followed by "" which with $6.7 million is at 7. The No. 8 movie this weekend is "" with $6.1 million. At 9 is "," $4.6 million and closing the Top 10 movie is "," $3.4 million.