News
>
Celebrity Gossip
August 08, 2005 03:25:57 GMT
What do you think, can dance? Well maybe in a real life she can, but not in the new Fox TV talent contests "So You Think You Can Dance." The star publicist Ken Sunshine confirms it's her scheduling conflicts that keep her from appearing in the show.

Despite her planned to appear as a guest choreographer in several episodes of "So You Think You Can Dance," Paula is too busy promoting an "American Idol" DVD and working on the show's new season. "We had not anticipated the time commitment required to successfully produce and appear in the show. It became apparent that her prior commitments ... made it impossible to be part of this new show," Ken explained.

News
>
Celebrity Gossip
August 08, 2005 03:04:40 GMT
creates one more trouble. This time the star got caught in a legal case involving United Licensing Group Inc., which is arranging for the manufacture of her perfume, clothing and other merchandise.

In a lawsuit filed to a Superior Court on Thursday, United Licensing accusing Pam for not been sufficiently available at signings, shoots and trade shows. In details, they claim it has a five-year contract but that Anderson repeatedly decided against licensing proposals. The company also claims it was excluded in Anderson's agreement to have her image on slot machines at Bally's casino and hotel in Las Vegas.

News
>
Celebrity Gossip
August 08, 2005 02:39:55 GMT
What is it like "Being "? Wanna know how it feels exactly? Then watch the star's reality series "Being Bobby Brown," airs on Thursday nights on Bravo. The series follows the lives of the R&B singer, his wife , and their three children.

Viewers' satisfaction is a sure guarantee, even more as two episodes have been added to the series, which first eight episodes have attracted many to watch. As said by Bravo President Lauren Zalaznick, "The first eight episodes of `Being Bobby Brown' have kept Bravo viewers buzzing. We hope two new episodes will satisfy viewers' appetites for more Bobby and Whitney."

News
>
Movie News
August 08, 2005 02:20:08 GMT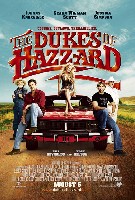 The newly premiered film of , "" has just established its colony in this weekend box office, rounding up $30.6 million in its first three days of release. The Dukes winning drags last weekend champ "The Wedding Crashers" to 2nd place with $16.5 million. Meanwhile, "" drops to third with $10.6 million.

The later film, secures 4th rank at this weekend box office is "" with $9.0 million, followed by "" at 5 with $7.4 million. Rounding out the Top 10 in sequence are "," $6.9 million; "," $5.8 million; "," $4.1 million; "," $3.6 million; and "," $3.1 million.