News
>
Movie News
July 06, 2005 04:46:14 GMT
Hollywood actor has a one-year resign from his Hollywood career in order to make a documentary about celebrated architect Frank Gehry, best known as the architect behind the famous Guggenheim Museum in Bilbao, Spain. Concerning the UK documentary, Pitt has to become a permanent fixture while he records the progress of Gehry's $450 million project on the historic King Alfred site in Hove, south east England.

Karis project developers expect to begin filming in the autumn. In addition, Karis spokesman informs, "Brad's been involved in the project for nearly two years. We're in discussions with the BBC and with Brad's production company Plan B about a documentary."

News
>
Movie News
July 06, 2005 04:24:11 GMT
's long awaited movie based on the murder of rapper Notorious BIG will now air on HBO soon as the star has signed a deal to debut the controversial movie on its network, reported website StalloneZone.com. There in the movie Stallone is to play Los Angeles Police homicide Detective Russell Poole who investigates the rapper yet unsolved murder.

Further the movie revolves Poole becoming the first investigator to suggest that dishonest cops with ties to rival rap label Death Row Records might be mixed up in the his 1997 murder. He later quit the force, claiming former Los Angeles Police Chief Bernard Parks and other department heads had squashed his efforts to probe cop corruption and the truth about Biggie's slaying.

News
>
Movie News
July 06, 2005 04:11:26 GMT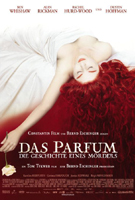 Tom Tykwer direction entitled "" will begin shooting in Germany next week, with an entire shot in English in a Munich studio. The movie, slated for autumn 2006 release, starring as the perfumer, Baldini, and British actor Ben Wishaw as Grenouille who shows up Baldini by effortlessly making complex perfumes that lead him on a strange and relentless criminal quest.



News
>
Celebrity Gossip
July 06, 2005 03:39:02 GMT
Anyone but is the high initiative band that willingly donates all profits made as a result of their performance at last weekend's Live 8 concert to charity, and encourages other acts to do the same. To everyone's notice their album sales have shot up since Live 8 concert, with fans rushing to buy copies of their greatest hits album titled "Echoes: The Best of Pink Floyd."

David Gilmour, guitarist of the British rock group uttered his opinion saying the main goal of the Live 8 was to raise awareness for the poverty in Africa and to pressurize G-8 to reach out to the continent, adding that profits from ticket sales of the Live 8 should be spent for saving lives. Joining them at a London concert was former singer .

News
>
Music News
July 06, 2005 03:19:27 GMT
Fourth season American Idol runner-up admits he's been working on his debut album and expects to include his band Sugar Money members for his Alabama tour. ''We're still in the beginning stages. I've been doing some studio work and practicing with my band, Sugar Money, when I have a chance to go back home. We did a little bit of recording while I was there. Obviously I'm still plugging my cats there, and trying to get the band on the road with me,'' said Bice.

Refused to reveal anyone he's working with for the album, Bice merely noted producers Desmond Child and Jamie Houston, and his duet with Richie Sambora of on the 1970 Ides of March song "Vehicle." Won't confirm rumors saying he did a duet with for the guitar great's next album, Bice explained, "I'd look forward to doing that. I can't speculate, though. Until things are in stone with me, I don't ever know what's going on."

News
>
Music News
July 06, 2005 02:56:38 GMT
Time can bring changes to someone's life. And so it works for rapper , who after her previous 5 albums has just realized that she is one of hip-hop's finest and no need to tell or prove it over and over to anyone. Hence, Elliott just comes the way she is in ''The Cookbook," which is her 6th album.

Has changed the way she thinks of herself, still Elliott comes to herself as the point of her album, containing a more inspired material. The album, shows Elliott's exuberant, try-anything-once, bang-on-everything-including-the-kitchen-sink, includes single "Lose Control" featuring and Fat Man Scoop.

News
>
Music News
July 06, 2005 02:26:44 GMT
Based on the new statistics published in the Guinness Book of British Hit Singles and Albums, it is mentioned that Rock veterans has spent 1,322 weeks on the chart, compared with ' 1,293 weeks. Thus, Queen has been crowned the Most Popular UK Band Of All Time. Speak about the group achievement, editor David Roberts said in a statement, "Given that Queen's chart career has been much shorter than those of the Beatles and Elvis, this is an incredible achievement and serves to cement their legendary status."

Listed in the UK Top 10 list of Most Popular Band Of All Time in sequence are; The Beatles (1,293), (1,280), (1,150), Dire Straits (1,136), Simon and Garfunkel (1,114), (1,032), (1,005), (989), and (966).