News
>
Celebrity Gossip
May 09, 2005 04:49:52 GMT
Legend singer James Brown was born in South Carolina, but grew up in Augusta. So, it's understandable that the poeple there want to show their appreciation to him, mainly for his musical accomplishments.

Hence, as a way to show their respect and gratitude, those people gave a life-sized bronze statue of the Godfather of Soul himself in middle age, smiling broadly and wearing a cape, presented at a Friday ceremony downtown attended by hundreds to mark Brown 72nd birthday.

News
>
Celebrity Gossip
May 09, 2005 04:21:25 GMT
Amid the massive reports on her scandal with former "American Idol" contestant Corey Clark, Paula Abdul uttered her defense, making a cameo appearance introducing the opening sketch on NBC's "Saturday Night Live." The SNL cast on Saturday night was meant to satirize ABC's "Primetime Live" aired an expose of the scandal based on idol Corey Clark concession.

The NBC's sketch has, in fact, made comical allusions to the scandal with a mock interview and stage performances, performing Amy Poehler as Abdul and Finesse Mitchell as Clark. But at the end of the sequence, Abdul returned to the set making her own "Idol"-style critiques of her imitator. To Poehler she said: "You need to perfect the clap a little more and be a lot more sexier so contestants will be willing to sleep with you."

News
>
Celebrity Gossip
May 09, 2005 04:08:44 GMT
Singer and actress Jessica Simpson has slammed reports of her alleged dalliance with rock star Fred Durst in Las Vegas last weekend. Local Nevada newspaper "Las Vegas Review-Journal" columnist, Norm Clarke, claimed to be at the Hard Rock Hotel with Simpson and the Limp Bizkit frontman, while the singer's husband Nick Lachey was nowhere in sight.

However, Simpson insisted the report is "absolutely untrue." Moreover, the singer's spokesman explains "Jessica and Fred Durst have mutual friends and were both at the event. The rest is absolutely untrue."

News
>
Celebrity Gossip
May 09, 2005 03:51:36 GMT
Linkin Park vocalist, Chester Bennington, is splitting up with his wife of nine years Samantha. The reason for the break-up, as cited in court papers, is irreconcilable differences and now the couple are battling over custody rights to their three-year-old son, Draven.

In case of child custody, Bennington once claims that his spouse is trying to limit his visitation rights, saying "I have every ability to care and nurture him."

News
>
Music News
May 09, 2005 03:35:43 GMT
The influential quartet "The Pixis" will held a reunion tour beginning in late spring, for which the band will play festivals, one-night-stands and, in some markets, two shows per night.

The 21-date tour will begin May 26 with two nights at the Roseland Theater in Portland, Ore., and end June 15 at the Agganis Arena in Boston. In addition, the Pixies will headline at Lollapalooza July 23 at Grant Park in Chicago.

News
>
Celebrity Gossip
May 09, 2005 03:16:13 GMT
Jimmy James Johnson, a 26-year-old man who allegedly punched Dr. Dre at the Vibe Awards last year after asking for his autograph during a taping of the show on November 15, has been ruled on trial of an assault charge. Judge James Dabney on Friday found sufficient evidence to try Jimmy James Johnson.

Dr. Dre was about to receive a lifetime achievement award when he was punched by Johnson, who was soon then stabbed by rapper Young Buck after he struck Dre. The attack had, in continuation, set off a chair-throwing brawl that spread through the crowd. Yet, Buck has pleaded not guilty and is free on $500,000 bail awaiting trial.

News
>
Music News
May 09, 2005 03:02:52 GMT
The Dave Matthews Band has their own unique way to mark the release of their new album. The group is going to celebrate the Tuesday release of their latest album, "Stand Up," by performing at the club Roseland on Monday night, a concert that will be broadcast live on the Web by AOL.

To note, the concert held at Roseland is part of a continuing series of concerts put on by AOL. As their another attempt to promote the album, the Dave Matthews Band will next tour the nation during the summer.

News
>
Music News
May 09, 2005 02:52:34 GMT
Colombian superstar Shakira is slated to perform live in "Wetten, dass ... ?" a popular German entertainment show, which aired live May 15 from the ancient Roman amphitheater of Aspendos near the Mediterranean resort of Antalya. As it has planned, the singer will sing "La Tortura" from her new album, "Fijacion Oral 1," scheduled for release in June.

The show, to add, is also expected to include hotel heiress Paris Hilton. Shakira has arrived Saturday in Turkey and was accompanied at the airport by son of Argentina's former President Fernando de la Rua, Antonio de la Rua.

News
>
Movie News
May 09, 2005 02:28:12 GMT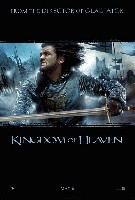 "Kingdom of Heaven," a film by director Ridley Scott features actor Orlando Bloom as a warrior in Jerusalem between the Second and Third Crusades, has topped box office, taking in $20 million in its debut weekend. The R-rated movie, which also features Liam Neeson, Jeremy Irons and Brendan Gleeson, was followed in the rankings by another new R-rated movie, "House of Wax," featuring Elisha Cuthbert and Paris Hilton, which took in $12.2 million.

As the two films did so, "The Hitchhiker's Guide to the Galaxy" dropped to third place with nearly $9.13 million after debuting last weekend at the top spot. Another notable new movie this weekend was "Crash," which among other featuring Sandra Bullock, Matt Dillon, and rapper Chris "Ludacris" Bridges, and was at fourth with $9.1 million. "The Interpreter," to follow, was at number 5, taking in only $7.5 million. At number 6 to 10 in succesion was "XXX: State of the Union," "The Amityville Horror," "Sahara," "A Lot Like Love," and "Fever Pitch."