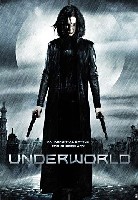 Overview
---
Genre
Action, Fantasy
Release Date
September 19, 2003
MPAA Rating
R
Duration
121 min.
Production Budget
$22 millions
Studio
Sony Screen Gems
Official Site
click here

REVIEWS RATE: Critics Readers [Rate It]
Cast and Crew
---
Director
Len Wiseman
Producer
Gary Lucchesi, Tom Rosenberg, Richard Wright
Screenwriter
Danny McBride
Starring
Story
---
One night while riding the subway, medical student MICHAEL CORVIN (Scott Speedman) is caught in a fierce fireflight between two myterious "gangs". He soon discovers that he's become a pawn in a centuries-old rivalry between two clandestine and powerful groups : Lycans and Vampires.
Striking and sophisticated vampire SELENE (Kate Beckinsale) is a top ranking member of the Death Dealers, an elite Vampire warrior class charged with hunting the Lycans into extinction. She accidentally stumbles accross evidence that the Lycans have plans to kidnap a young human doctor -- Michael -- but she's not sure why.
Neither side has ever had much use for people, preferring to avoid the dangers of close human contact. Selene alerts the arrogant, aristocratic KRAVEN (Shane Brolly), regent Vampire leader, but he dismisses her concerns. "The Lycans are a savage, undisciplined bunch," he sneers, "common street thugs." How could they possibly mount any kind of organized operation against the great Vampire dynasty? Kraven is more concerned with elevating his status and keeping himself pleasured by the other female vampires in their sprawling mansion compound.
But Selene won't let go of her hunch, and disobeying Kraven, steals away from the estate to shadow Michael through the city. In spite of her centuries of paramilitary training, she finds herself becoming curiously interested in Michael -- who, like all other humans, has no idea that Vampires or Lycans even exist. In the course of her surveillance, Selene uncovers a Lycan plot that could prove fatal to the entire Vampire race -- but none of her kind will believe her.
When the Lycans make their next move on Michael, Selene is there to fend off the assault. But during the violent struggle, Michael is bitten by LUCIAN (Michael Sheen), the debonair but ruthless Lycan leader. This sets into motion the age-old cycle of the young human slowly evolving into werewolf -- and thus unwittingly becoming Selene's mortal enemy.
Desperate for an ally, Selene awakens VIKTOR (Bill Nighy), the supreme Vampire overlord, from his hundred-year slumber, to warn him of the Lycan's plot. But she's inexperienced in the ancient ways of reviving Vampires from their restorative sleep sessions, and is severely disciplined by the ruling clique for the brazen misdeed. Not only that, the angry Viktor demands proof of her outlandish claim -- but she has none. She simply knows that Lucian is organizing an attack, building a werewolf army intend on revenge after years of persecution at the hands of the arrogant Vampires.
When the battle begins, which side will you choose?