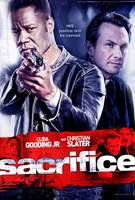 Overview
---
Genre
Thriller, Action

Release Date
April 26, 2011 (DVD)

Studio
Voltage Pictures


Cast and Crew
---
Director
Damian Lee
Producer
Michael Baker, Robert Menzies
Screenwriter
Damian Lee, Maribel Bedoya
Starring
Story
---
Criminals don't play by the rules; why should the cops?
JOHN HEBRON (CUBA GOODING JR) is a modern day Dirty Harry. When his wife and child were killed in an act of vengeance, his life changed in an instant. Devastated, he threw himself into his job, no-holds barred. He takes his revenge on the drug dealers, the thieves and the murderers that plague his city.
FATHER PORTER (CHRISTIAN SLATER) tries to help John through his traumatic loss, but even the ex-soldier turned religious man can't get through to John, who has turned to the bottle instead of God.
MIKE is a young drug pusher, who got into the trade to provide for his five-year old sister, Angel. He tries his best to protect her from the horrors that he sees on a daily basis and realizes that the only way to truly protect her is to escape from his criminal life and start again. His boss, ARMENT (KIM COATES), won't let him go, he knows too much. Mike knows he's trapped.
When he's put in charge of a massive shipment of heroin, molded into statues of the Virgin Mary, he sees this as his best chance to escape. He steals a statue, worth $20 million, and hides it in Father Porter's church. Mike makes his demand for freedom, but Arment does not negotiate.
A mutual friend asks John to call Mike and help him out of his trouble. Mike doesn't say anything, but simply asks John to look after Angel if anything happens to him. When Mike is killed, Arment goes after Angel, trying to find any information regarding the heroin.
John, given the opportunity to save a little girl, something he was unable to do with his own daughter, stops at nothing to get her back. With Father Porter's help, he tears a path of vengeance through the underworld that eventually leads him to Arment, and a stand-off that will define John not just as a cop, but as a man.