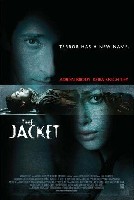 Overview
---
Genre
Thriller
Release Date
March 04, 2005
MPAA Rating
R
Duration
102 min.
Production Budget
$29 millions
Studio
Warner Independent Pictures
Official Site
click here

REVIEWS RATE: Critics Readers [Rate It]
Cast and Crew
---
Director
John Maybury
Producer
George Clooney, Peter Guber, Steven Soderbergh
Screenwriter
Massy Tadjedin
Starring
Story
---
991: Jack Starks, a U.S. Marine Sergeant serving in the Persian Gulf War, receives a near-fatal gunshot wound to the head. Although he recovers, the incident leaves him with shock-related amnesia. After his release, with nowhere to go, Starks, who has no relatives, returns to his native Vermont.
Nine months later, hitchhiking along a snowbound Vermont highway, Starks encounters a broken down pick-up truck. The driver, a drunken, disoriented mother named Jean, and her eight-year-old daughter, Jackie, are stranded at the roadside. With Jean too drunk to speak with him, Starks approaches Jackie and offers his help and gets the truck started.
Starks continues hitchhiking, and is picked up by a station wagon driven by a young man headed for the Canadian border. Shortly afterward, the car is pulled over by the police and Starks blacks out. When he awakens, he finds himself on trial for murder in a small town court.
Found not guilty by reason of insanity, Starks is committed to Alpine Grove, a state institution for the criminally insane. There a staff physician, Dr. Becker subjects Starks to a jarring experimental treatment involving mind-altering drugs and claustrophobic physical restraint. Once medicated, Starks is wrapped in jacket-like restraints and left alone for hours at a time in a corpse drawer located in the hospital's basement morgue.
And in the drawer, in the dark and under the influence, Starks initially experiences flickers of memory from the war and the shooting of the police officer. Under this regimen, he begins putting together bits of his past and tries to make sense of his circumstances.
The past gives way to the future when he is suddenly transported to a diner in Vermont where he meets Jackie, a waitress who takes pity on him and tries to help him find a place to sleep for the night. It is Christmas Eve, and all of the local homeless shelters are full, so Jackie allows Starks to sleep on her couch. In these hours, Starks begins to realize that the drawer he's been confined to is the secret to his recovery and that his future and well-being lie in the hands of the girl he's just met.
THE JACKET is a gothic thriller directed by John Maybury, starring Adrien Brody, Keira Knightley, Kris Kristofferson, Jennifer Jason Leigh, Kelly Lynch, Brad Renfro, Laura Marano and Daniel Craig. With a screenplay by Massy Tadjedin from a story by Tom Bleecker and Marc Rocco, THE JACKET is produced by Peter Guber for Mandalay Pictures and George Clooney and Steven Soderbergh for Section Eight Productions. Executive Producers are Ori Marmur and Peter E. Strauss for Mandalay Pictures, Ben Cosgrove and Jennifer Fox for Section Eight Productions, Todd Wagner and Mark Cuban for 2929 Entertainment, Andy Grosch for VIP Medienfonds, and Chris Roberts for Rising Star. Co-producers are Philip A. McKeon, Donald C. McKeon, Marc Rocco and Marc Frydman for Camera Marc, Andreas Schmid and Kia Jam. Co-Executive Producer is Peter McAleese.
The Jacket is a Warner Independent Pictures and Mandalay Pictures presentation, in association with 2929 Entertainment, of a Section Eight Production, co-produced with VIP Medienfonds 2/VIP Medienfonds 3/MP Pictures GmbH, in association with Rising Star.
Mandalay Pictures is a preeminent financier, producer and distributor of major theatrical motion pictures for the global marketplace. Mandalay Pictures is part of the Mandalay group of companies, which also creates entertainment content for television, sports and multi-media.
Section Eight is George Clooney's and Steven Soderbergh's Warner Bros.-based production company. Recent Section Eight films include Confessions of a Dangerous Mind, Far From Heaven, Welcome to Collinwood, Insomnia, Ocean's Eleven, Criminal and Ocean's Twelve. Upcoming films include A Scanner Darkly, and Syriana.
THE JACKET is supported by Scottish Screen and the Glasgow Film Office, and was shot in Scotland and Canada.