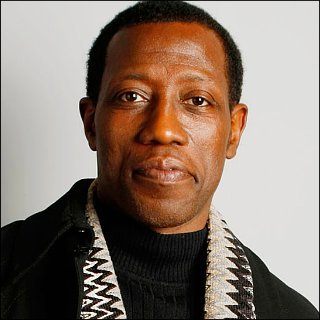 Profile
---
Famous as :
Actor

Birth Name :
Wesley Trent Snipes

Birth Date :
July 31, 1962

Birth Place :
Orlando, Florida, USA

Spouse :
April (1985 - 1990), Nakyung "Nikki" Park (painter, since 17-Mar-03)

Claim to fame :
As Blade/Eric Brooks/'The Daywalker' in the Blade trilogy

Biography
---
Wesley Snipes born on July 31, 1962, in Orlando, Florida is an American actor and producer. Snipes was grown up on the streets of the South Bronx in New York City, where he decided early on that he wanted to be a dancer until he took some acting classes. Started the high school for the Performing Arts, he began to build his dream to get in the musical theater and commercials that definitely faded as his mother filed in divorce from his father and decided to move to Orlando, Florida before he could graduate from high school. Lived in his new environment, Snipes went to local high school while he also did puppet theater, mime and musical theater in many competitions and festivals. Finished his high school, he attended the State University of New York College at Purchase and graduated with a Bachelors of Fine Arts in 1985. Soon afterward, he began performing in local dinner theaters and regional productions before an agent finally spotted and got him a role in "Wildcats" (1986), a film tells about a high school track coach who knows just as much about football as anyone else on the planet.

Since then, Snipes who is a 5th Degree Black Belt and practices Capoeira, Brazilian martial arts, often played tough characters in action movies that demonstrate considerable athletic and fighting ability. One such movies he had ever played in was "New Jack City," a 1991 crime thriller where he played as Nino Brown who with his gang become the dominant drug ring within the city when crack cocaine is introduced to the city streets during the 1980s. For the role he played in that thriller, Snipes received the NAACP Image Award for Outstanding Actor in a Motion Picture. Besides, he also played in "Passenger 57" (1992) where he portrayed John Catter, an airline security expert who must take action when he finds himself trapped on a passenger jet when terrorists seize control of it. The next year, in 1993 Snipes was known for his action in "Demolition Man," an American motion picture tells about two men, one an evil criminal and another a policeman. There he played as Simon Phoenix who has been released from his confinement in a "cryoprison," which is a huge freezing device used in place of traditional prisons, and soon embarks on a reign of terror throughout the city of San Angeles.

Back to Top

Back to Top