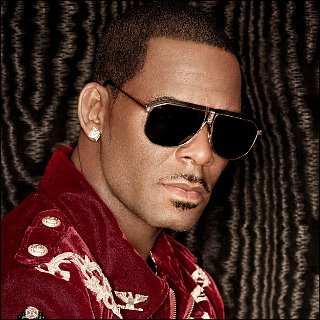 Profile
---
Famous as :
R&B singer
Birth Name :
Robert Sylvester Kelly
Birth Date :
January 08, 1967
Birth Place :
Chicago, Illinois, USA
Spouse :
Aaliyah
(singer, 30-Aug-94 - 7-Feb-95) (annulled), Andrea Lee (former back-up dancer, 1996 - 2009)
Claim to fame :
Single "I Believe I Can Fly" (1996)
Biography
---
"
TP.3 Reloaded
," released in 2005, was quite a shaking for music world for it's been sold over 490,000 copies in U.S. after being released for a week, quickly became a best-seller album. Greater than that, the album also gained 1st rank at Billboard 200 and R&B/Hip-Hop Album chart. This achievement isn't something new for famous singer such R. Kelly, but considering his long trials for sex scandal with underage woman it at least helps him to recoup his good reputation and win back his place in people's heart. Sad to say that notwithstanding with the glorious success of "TP.3 Reloaded," one of its tracks entitled "Trapped in the Closet" raised a charting controversy. Consisting of five parts, the song was suspected to be a gimmick for Kelly to break chart records since each part was considered as a different airplay. However, there were some people rejected this opinion, claiming Kelly did not split the song on purpose but rather did it because the song had a 14-minutes duration and therefore was detached to 3-minutes parts.
Looking back through the years, the young Kelly lived with two brothers and sister and his mother Joanne in a slum in the Chicago's Southside project. The street life and bad influence among the neighborhood made him focused his life more on music and basketball. His interest over music was inspired by Lena McLin, his former music mentor at Kenwood Academy High School. In 1988, Kelly who was born on August 1, 1967, started to explore his talent by singing and playing keyboard as a street performer. Kelly's life changed when a young musical executive, Wayne William, took him off the street to sign for Jive Records. He later formed an R&B group called Public Announcement and headed for recording in the end of 1990. "Born Into the '90s" album, includes songs like "She's Got that Vibe", "Slow Dance", "Dedicated", "Dedication of a Hottie" and "Honey Love," was released and in time made it to sell over a million copies. After the success, in 1993, Kelly went solo and brought out his own album "
12 Play
" which increased his career with such hits, as "Sex Me", "Your Body's Calling" and "Bump & Grind."