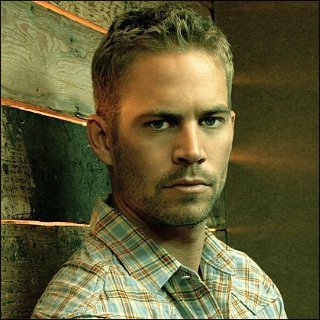 Profile
---
Famous as :
Actor

Birth Name :
Paul William Walker IV

Birth Date :
September 12, 1973

Birth Place :
Glendale, California, USA

Claim to fame :
As Lance Harbor in "Varsity Blues" (1999)


Biography
---
by AceShowbiz.com
---
The common notion to survive in Hollywood could be: if you are blond, blue-eyed, good looking and doing some acting, you'll be in the clan. These are the stereotypes that Paul Walker has, but not living on. As cute as he's always been, Paul Walker could have easily been Hollywood's gleaming boy. Yet, he seems to refuse the idea that Hollywood lifestyle is the center of his life "Some people say that you should go to the parties, nightclubs, & I look at them & say, 'You don't want to have contacts with those people.' Look at what happened to River Phoenix. If you get caught up in that, it ruins you. Hollywood is garbage." This heartthrob is just getting interesting.

Paul was born September 12, 1973 in Glendale, California and grew up in San Fernando Valley. Starting as early as a baby, Paul was noticed as Pampers commercial star. Knowing that appear on TV was what he wanted, teenage Paul took some guest role appearances in TV series. The first one was "Highway to Heaven" (1984) where he became a mentally challenged youth for three episodes. Next came "Throb" (1986) as Diana Canova's son for a year before being replaced by Sean De Veritch. Feeling that it was time to move on to bigger screen, Paul starred in a rather insipid movie titled "Monster in the Closet" (1987).

For the next nine years, he continued to make brief appearances in various series while dividing his energy for school too. In 1998, he appeared in two movies "Meet the Deedles" and "Pleasantville". The former was a 'thumb-down' but the later was a success. It was such an experience for Paul as he played opposite two rising stars, Reese Witherspoon and Tobey Maguire. He was indeed amid climbing his own way to fame. Featuring in "Varsity Blues" (1999) as a football jock and in "She's All That" (1999) as Freddie Prinze Jr.'s heartless rival provided him a bridge to an even more intense character as seen in "The Skulls" (2000). The movie that was directed by Rob Cohen presented him as a member of mysterious fraternity in a college.

After "The Skulls", time was flying for Paul. Pinned by Cohen again, he got his first adult role as detective Brian O'Conner in "The Fast and the Furious" (2001) opposite Vin Diesel. Despite the little expectation of becoming a hit, this movie ...