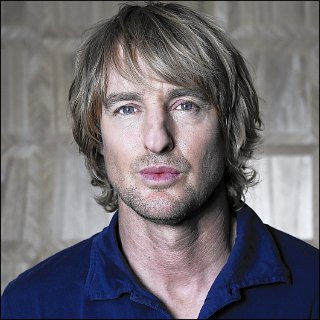 Profile
---
Famous as :
Actor

Birth Name :
Owen Cunningham Wilson

Birth Date :
November 18, 1968

Birth Place :
Dallas, Texas, USA

Claim to fame :
As Roy O'Bannon in "Shanghai Noon" (2000)


Included in People magazine's "Hottest Bachelors" list in June 2006.
Ranked at No. 7 in the poll on Most Wanted Summer Hunks conducted by Entertainment Tonight TV in July 2005.
Shared with Vince Vaughn the Best On-Screen Team honor at the 2006 MTV Movie Awards show held June 3rd for their portrayal in "Wedding Crashers" (2005).
Was selected as Favorite On-Screen Match-Up together with Vince Vaughn at the 2006 People's Choice Awards for his role in "Wedding Crashers" (2005).
Brought home an MTV Movie Award in 2004 for winning the Best Kiss category which he shared with Carmen Electra and Amy Smart through "Starsky & Hutch" (2004).
Got nominated for Stoner of the Year by High Times Magazine in 2004.
Was unable to contribute his writing skills to compose the script for Wes Anderson's effort of "The Life Aquatic with Steve Zissou" (2004) due to his hectic acting schedule, but managed to star in the movie.
Has starred together with Ben Stiller in 8 movies up to 2004, including in "The Cable Guy" (1996), "Permanent Midnight" (1998), "Meet the Parents" (2000), and "Zoolander" (2001).
Collected two nominations at the 2004 Teen Choice Awards for the categories of Choice Movie Chemistry sharing with Ben Stiller and Choice Movie Actor - Comedy through his role in "Starsky & Hutch" (2004).
Was nominated for a Razzie Award in 2003 along with Eddie Murphy and Robert De Niro in the Worst Screen Couple category through "Showtime" (2002).
Was considered for the role of Duff in "Stealing Harvard" (2002), but it finally went to Tom Green.
Shared with Wes Anderson the BAFTA Award and OFCS Award nomination in the category of Best Screenplay - Original by 2002 for their work in "The Royal Tenenbaums" (2001).
Obtained Best Screenplay Written Directly for the Screen nomination together with Wes Anderson from Writers Guild of America in 2002 through "The Royal Tenenbaums" (2001).
Was nominated for Best On-Screen category at MTV Movie Awards in 3 consecutive years of 2002-2004.
Has been the nominee of Best Performance by an Actor in a Supporting Role, Comedy or Musical category at Satellite Awards for 2 consecutive years that were in 2001 and 2002.
Along with his brother, Luke Wilson, initially joined the cast of "Ocean's Eleven" (2001) as the Malloy brothers, but decided to quit the project to film "The Royal Tenenbaums" (2001).
Scored two nominations at the 2001 Blockbuster Entertainment Awards in the categories of Favorite Supporting Actor - Comedy and Favorite Action Team (Internet Only) along with Jackie Chan.
Earned a Blockbuster Entertainment Award nomination for the category of Favorite Supporting Actor - Horror in 2000 through his role in "The Haunting" (1999).
Accidentally cut his chin while undergoing a scene in "The Haunting" (1999) in which his character attacks the portrait of Hugh Crane with a candlestick and so had to get some stitches on it.
Won the category of Debut of the Year in 1996 and of Best Screenplay in 1999 at Lone Star Film & Television Awards, both sharing with Wes Anderson.
Became the best man of his brother, Andrew, at his wedding.
Was the 1001st guest on "Rove Live", an Australian talk show, and was presented a Meat Tray for becoming so.
Has undergone radio commercials for Heineken and Michelob Lite.
Once worked at Blockbuster Video store before pursuing his acting career.
Was only 2 courses shy of a degree when giving up his study at the University of Texas at Austin.
Played football during his hig school years as his two brothers did.
Is a huge fan of Willie Nelson and Winston Churchill.
Has a crooked nose which resulted from two accidents he had experienced, first in high school then in college yet it later has become his trademark instead.
Is considered as one of 'The Frat Pack' members together with Will Ferrell, Jack Black, Vince Vaughn, Ben Stiller, Steve Carell, also his brother, Luke Wilson, and the first of it to be bestowed an Oscar nomination.
Appeared in the music video of The Wiseguys' "Start the Commotion."
His favorite movies include "Scarface" (1983) and "Punch Drunk Love" (2002).
Is a left-handed person and non-smoker.
Keeps an Australian cattle dog called Garcia.
Has a tattoo of a clover with the word 'luck' written under it.
Likes playing table tennis also doing water-sports like bodysurfing and swimming.
Was born on the same date and month as David Ortiz, Chloe Sevigny, and Christina Vidal were.
Is of Irish Catholic ancestry.