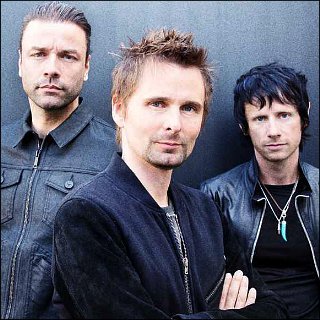 Profile
---
Famous as :
Alternative rock band
Birth Name :
Rocket Baby Dolls
Birth Date :
1994
Birth Place :
Teignmouth, Devon, UK
Claim to fame :
Album "
Absolution
" (2003)

Biography
---
by AceShowbiz.com
---
A trio consisting of three high school friends named Matthew Bellamy (born on June 9, 1978 in Cambridge, England), Dominic James Howard (born on December 7, 1977 in Stockport, England), and Christopher Tony Wolstenholme (born on December 2, 1978 in Rotherham, Yorkshire, England), Muse actually resulted from the idea to overcome the boredom of their life in the sleepy town of Teignmouth, South Devon, England. The band's incarnation originally was materialized in the form of a duo called Gothic Plague established by Dom and Matt in January 1994, but it was later changed to Fixed Penalty when Chris joined in, then to Rocket Baby Dolls under which they enrolled in a local Battle of The Bands competition. Initially pessimistic of the chance of winning due to their different sounds with other contestants, the troupe surprisingly were named the winner, fueling the personnel to continue their pact in professional way.

With Dom on drum, Chris handling the bass, and Matt taking the lead vocal, guitar, also keyboard, the threesome began to look for a better stage name and finally settled to call themselves Muse after their art teacher told of the muses from Greek mythology. They confidently commenced their journey through a number of performances at the local venue for some time. The band gradually were able to draw quite large audience, which led them to come into the attention of Dennis Smith, the owner of Sawmills studio and Dangerous Records label. Not only offering them a chance to record their materials, the man also willingly set up a few showcases in the U.S. to ultimately get them signed under Maverick Records in 1998, much to the group's delight. Other deals soon followed with Motors in Germany, Naive in France, and notably, Mushroom Records in England through which they happily saw their full-length debut album, "Showbiz", touching the U.K. market in 1999 after the releases of their two EPs entitled "Muse EP" and "Muscle Museum EP."

Produced by John Leckie, who previously had been involved in the making of Radiohead's "The Bends", the LP had a more-than-satisfying outcome as it managed to enter the top 30 of U.K. albums chart while generating some modest hits like "Sunburn", "Unintended", "Cave", and "Uno". On the other hand, comparisons inevitably were drawn to Radiohead thereafter, leading to an accusation that Muse were mere copycat. Going unaffected, the band kept moving on their path to ...