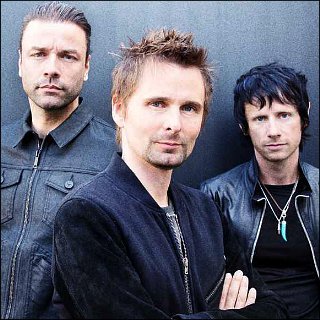 Profile
---
Famous as :
Alternative rock band
Birth Name :
Rocket Baby Dolls
Birth Date :
1994
Birth Place :
Teignmouth, Devon, UK
Claim to fame :
Album "
Absolution
" (2003)

Won the award for British Live Act at the 2007 Brit Awards, held Feb 14th in London.
Earned the Best Alternative award at the 13th annual MTV Europe Music Awards, held November 2, 2006 in Copenhagen.
Won only one out of five nominations at the 13th annual Kerrang! Awards, held August 24th, 2006 in London, that was for Best Live Band category.
Has been selected to be the MTV's Motoalert Artist of July 2006.
Single "Map of the Problematique" encountered its premiere through MTV Italia's TRL on June 2, 2006.
Their second album, "Origin of Symmetry", was not released in U.S until September 2005 due to their conflict on artistic side with Maverick Records.
Their song of "New Born" was remixed by Paul Oakenfold and later was featured on the soundtrack of "Swordfish" (2001).
The music video of "Hysteria" was made based on the hotel-trashing scene from a movie entitled "Pink Floyd The Wall" (1982).
Single "Hyper Music" had an acoustic version entitled "Hyper Chondriac Music" which contained the same verses as the original but with the chorus added to the end.
Became the first music artist to be represented by Taste Media publishing company as Dennis Smith originally established it especially for them.
Their first performance outside the school was at The Cavern in Exeter.
Song "New Born" tells about a fear of the evolution of technology and of the possibility of it to destroy all humanity in reality.
The lyrics of their song "Bliss" referred to the eagerness of becoming God.
Has made several covers which included Nina Simone's "Feeling Good", The Four Seasons' "Can't Take My Eyes Off You", and The Smiths' "Please, Please, Please, Let Me Get What I Want."
Is known to be a band that likes to include some cryptic messages in their works as those found in their second album, "Origin of Symmetry."