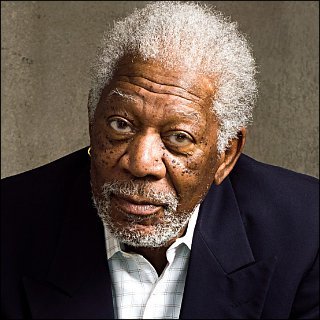 Profile
---
Famous as :
Actor

Birth Name :
Morgan Porterfield Freeman Jr.

Birth Date :
June 01, 1937

Birth Place :
Memphis, Tennessee, USA

Claim to fame :
As Fast Black in "Street Smart" (1987)


His real father, Morgan Porterfield Freeman, Sr., died at the age 47 because of cirrhosis of the liver.
Included in Forbes magazine's Top 10 list of the Most Trusted Celebrities in America (September 2006).
Collected his Doctor of Arts and Letters diploma from Mississippi's Delta State University on May 13th, 2006.
Won the cyber-squatting case of Internet domain name www.morganfreeman.com against Saint Kitts and Nevis-based web site operator, Mighty LLC, in May 2005.
Has twice played opposite a main character named Jack Ryan; the first was in "The Sum of All Fears" (2002) while the second in "The Big Bounce" (2004).
Established the Ground Zero Blues Club in Clarksdale, Mississippi in May 2001.
Formed a production company named Revelation Entertainment in 1997 together with film producer Lori McCreary.
Was placed on 31st rank in Empire Magazine's list of Top 100 Movie Stars of All Time in 1997.
Became a member of the jury at the 1994 Berlin International Film Festival.
Participated at the 1964 World Fair with being a dancer.
Has taken the producer seat in the movies he also starred in, like "Under Suspicion" (2000), "Along Came a Spider" (2001), and "Levity" (2003).
Donated $250,000 to help developing a chair of performing arts at Hutchison School for Girls in Memphis.
Is one of the founding members of The Frank Silvera Writers' Workshop along with director/actress Billie Allen and director/ playwright Garland Thompson.
Rejected a partial scholarship in drama from Jackson State University to serve the U.S Air Force.
Once performed on a radio show in Nashville, Tennessee during his high school years.
Enacted the lead role in his school's stage production when he was eight years old, and later won a statewide drama competition at age 12.
Puts his Oscar statuette inside a cabinet built by his good friend which is placed in his office.
Co-owns and operates a fine dining restaurant named Madidi in Clarksdale, Mississippi.
Is not related to director Morgan J. Freeman.
Has played some characters that originally were not written specifically for an African-American actor.
Once worked as a mechanic in U.S Air Force and had considered to become its fighter pilot, but later decided to go for acting instead.
Is able to speak fluent French.
Has a private pilot license.
Keeps a huge telescope in the backyard of his ranch in Charleston.
Likes riding horses and sailing; he owns five horses and a boat which is berthed in the Caribbean.