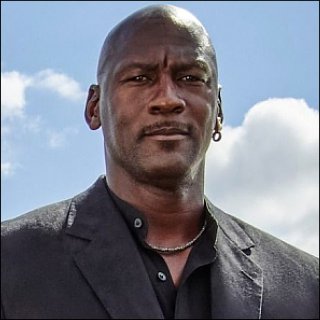 Profile
---
Famous as :
Former NBA Player

Birth Name :
Michael Jeffrey Jordan

Birth Date :
February 17, 1963

Birth Place :
Brooklyn, New York, USA

Claim to fame :
Rookie for the Chicago Bulls in the 1984 NBA draft


Biography
---
by AceShowbiz.com
---
by chance, Michael's love for basketball began when his older brother, Larry, continuously beat him in one-on-one pickup games that actually provided him any challenges which at last determined him to become a better player. Shortly after realizing his love to basketball, he moved right into JV basketball and learnt something started to happen to him, which greatly influenced his career.

As faith would have it, the main team needed an extra player seeing the playoffs were coming up and everything, so Michael confidently felt that they would pick him, but when his teammate Leroy Smith was the chosen one he bacame very upset. It made sense anyway, since he was only 5'10" while Leroy was 6'5" and the team indeed needed someone high. After the refusal Michael even got a worse "look down" from the team members that eventually made him woke up from the desperation. Since that time he made up his mind and promised himself to not letting such thing happened to him again. This thought encouraged Michael to start working harder than ever on his basketball skills, and the result of that can be seen in the near future as he intensively dedicated himself to make his own varsity team, which drawn him to cut classes and go to the gym to practice. He was at that time practicing every day after school with his brother Larry.

The every day practice had shot Michael up from 5'10" to 6'3" in his sophomore and junior year. From now on things bigger had started. Shortly before his graduation, the University of North Carolina was trying to recruit him to go to college there and when he was graduated from Laney High in June 1991, Michael proudly received a full scholarship to the university. Being a freshman there, Michael got his ever-growing popularity when he scored the game-winning basket in the 1982 NCAA championship game against the Georgetown Hoyas. Because of the success, he was selected college player of the year in the 1983-1984 season, and led the US Men's Basketball Team to an Olympic Gold Medal in the 1984 Summer Olympics under coach Bobby Knight. And so Michael began dreaming of something greater that he said he wanted to play in the NBA instead of finishing college. Thus, he decided to leave college and enter the NBA in 1984 and was selected at number 3 in the draft ...