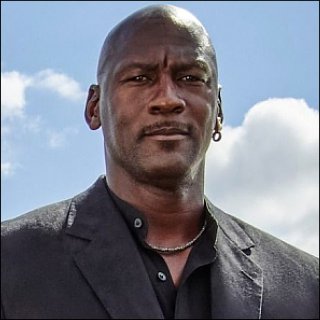 Profile
---
Famous as :
Former NBA Player

Birth Name :
Michael Jeffrey Jordan

Birth Date :
February 17, 1963

Birth Place :
Brooklyn, New York, USA

Claim to fame :
Rookie for the Chicago Bulls in the 1984 NBA draft


Biography
---
by AceShowbiz.com
---
Michael Jeffrey Jordan was born on February 17, 1963, in Brooklyn, New York, to James who worked at an electric plant and Delores Jordan who worked at a bank. Due to that fact, Michael was not a rags-to-riches story, his childhood was reasonably comfortable. He is the fourth children in the family with two older brothers; Larry and James, one older sister; Delores, and one younger sister; Roslyn. A few years after Michael was born, his parents were concerned about raising their family on the mean streets of Brooklyn, where drugs and violence could become a way of life for those unable to resist the temptations. That's why they moved the whole family to Wilmington, North Carolina, the small, laid back town, which they perceived as a better place to raise their family. And so Wilmington was where Michael and his brothers and sisters grew up.

At their early settlement in Wilmington, Mr. and Mrs. Jordan began to set an example for their children, showing them an eagerness to work and achieve that never released, encouraged them to make things happen rather than wait around for them to happen. When still a young children, Michael was more of a recreational athlete, sometimes lazy, usually discouraged because he could not compete with his older brother Larry. Also he was not very tall during his early years and did not have much hope of being that tall since none in the Jordan family history could ever reached over six feet. It was understandable that before entering high school, Michael gave no thought at all to an athletic career. He wasn't in purposely loved to play baseball when he was a child, and so did basketball and football. But, instead of basketball, baseball was the sport he took to initially and by the age of twelve he was favourably named the top player of the league, for which he played pitcher and outfield.

When he attended D.C. Virgo Junior High School, Michael was a typical 15-year-old all-around athlete. He played three sports, but was fanatical about none of them. Everything was changed when he reached Laney High School as a tenth grader and was already 5'10'', two inches taller than his dad and three inches taller than his brother Larry. That was the very first time in his life when he became the quarterback for Laney JV football team in the fall. Happened ...