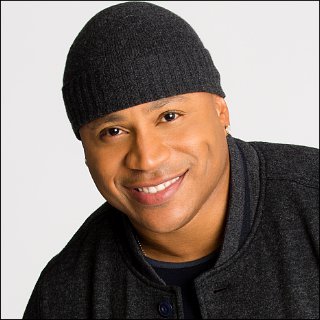 Profile
---
Famous as :
Hip-hop singer, actor

Birth Name :
James Todd Smith

Birth Date :
January 14, 1968

Birth Place :
Bay Shore, Long Island, NY, USA

Claim to fame :
Single "I Can't Live Without My Radio" from album "Radio" (1985)


Teamed up with U.S. chain store Sears to launch a clothing line, called LL Cool J for Sears, for young boys and girls (May 2008).
Obtained the 32nd place on VH1's 100 Sexiest Artists in 2002 and 82nd on the Top Pop Artists of the Past 25 Years list in 2004.
Created the theme song of "Wildcats" (1986) while also had a cameo appearance in that movie.
Is the owner of a record label called P.O.G. which stands for Power of God, a footwear line named Najee, and a Warner Brothers-affiliated production company, Rock The Bells.
Appeared in the music videos of LSG's "Curious", Sisqo's "Thong Song", Big Pun's "It's So Hard" and Missy Elliott's "Get Ur Freak On."
Has a trademark of always wearing hat when off-camera, a conduct has been carried on since he was abused by his mother's boyfriend.
His another single, "I'm That Type of Guy", contained some quotes from the movie "The Wizard of Oz" (1939).
His infamous lip-licking actually is a nervous habit he has developed during his younger years.
Has nicknames of Uncle L, The Future of the Funk, and Nickelhead.
Earned a VH1 Hip Hop Honor along with Notorious B.I.G., Ice-T, and Salt-N-Pepa by September 2005.
Took number 5 on VH1's list of 50 Greatest Hip Hop Artists in 2003.
Was the host of the 2001 American Music Awards together with Britney Spears.
His two songs, "Mama Said Knock You Out" and "Going Back To Cali", were included in MTV's 100 Greatest Videos Ever Made when the list was issued in 1999.
Actually created a compilation of songs before "Mr Smith" (1995) but it never came up to the surface.
Has become the first black artist to perform in "MTV Unplugged" when appeared on the show in 1992.
Established a non-profit organization, Camp Cool J Foundation, in 1992 to provide free year round camping, educational cultural and recreational programs for children across U.S.
His 1985 album, "Radio", was placed in the 69th position of 100 Best LPs of the Eighties list compiled by Rolling Stone Magazine.
Has been the first rap artist to be featured on MTV Rockumentary.
His wife, Simone, owns a headwear company named Ms. GotRocks.
Has two tattoos on his shoulder: one is the word of 'Respect' on the left one and another is the word 'Mr. Smith' on the right.
Was given the title of Chief Kwasi Achi-brou by the village elders of Grand Bassan for his contribution in helping the establishment of a hospital in Abidjan, Ivory Coast, Africa.
Has been the first black rapper to perform in "Saturday Night Live" (1975) also to be featured in Ebony magazine.
His son, Najee, was featured in his music video of "Hush."
His song entitled "Nitro" interpolated some parts from George Clinton's "(not just) Knee Deep."
Has written two books consisted of an autobiography, "I Make My Own Rules" (1997), which was co-written by Karen Hunter and a children orientated book entitled "And The Winner Is..." (2002).
Showed his disapproval of Naomi Campbell and Mike Tyson through his compositions, "Rasta Imposta" and "The Ripper Strikes Back."
Has had rivalry with other rappers, such as Canibus, Kool Moe Dee, Wyclef Jean, MC Shan, and Ice-T.
Has been the model for The Gap clothing and Ikea.
Was a big supporter of New York's governor, George Pataki.
Once underwent a job as a paperboy before pursuing a rap career.