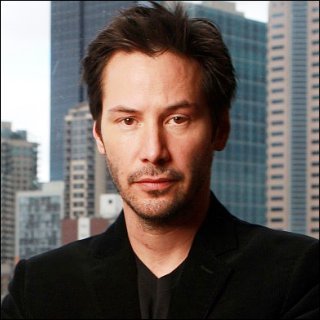 Profile
---
Famous as :
Actor

Birth Name :
Keanu Charles Reeves

Birth Date :
September 02, 1964

Birth Place :
Beirut, Lebanon

Claim to fame :
As Ted Logan in "Bill & Ted's Excellent Adventure" (1989)


Biography
---
by AceShowbiz.com
---
skates at an ice rink shop, landscaping, and making pasta. Yet, Keanu could in the future be a famous Hollywood film actor.

As faith would have it, Keanu soon then appeared in some stage gigs and bit parts on TV movies. After all he could favorably win a supporting role in the Rob Lowe hockey flick "Youngblood" (1986), which was filmed in Canada. Shortly after the production completed, Keanu moved to Hollywood, where he burst on critics' radar with his performance in the dark adolescent drama "River's Edge" (1986). The star eventually gained his very first popularity for the role of totally rad dude Ted Logan he played in the 1989 film "Bill & Ted's Excellent Adventure." Sad to relate that the role had, in many ways, influenced Keanu's following portrayal in some other different movies. In order to rub off such stigma, in the next few years he forced himself to get involved in a series of highbrow projects. Firstly played a slumming rich boy opposite River Phoenix's narcoleptic male hustler in "My Own Private Idaho" (1991), Keanu went on to play an unlucky lawyer who stumbles into the vampire's lair in "Dracula" (1992) and Shakespearean party-pooper Don Jon in "Much Ado About Nothing" (1993).

Despite the fact that his acting has frequently been ridiculed as wooden, Keanu indeed able to be a major box-office draw and several of his films have equally become extremely popular. It was in 1994 when he became a big-budget action star with the release of "Speed" (1994). This was just the beginning of the start before he would in the following years alternate in such films, as "Feeling Minnesota" (1996), "The Last Time I Committed Suicide" (1997), "Johnny Mnemonic" (1995), and "Chain Reaction" (1996). A few years after he drooped the "Speed" sequel, Keanu hit the box office with the Wachowski brothers' cyberadventure "The Matrix" (1999). Strengthen his role as Neo in that movie, he kept playing in its two sequels, "The Matrix Reloaded" and "The Matrix Revolutions", both box-office hits. That achievement has, in fact, granted this left-handed actor a Star on the Hollywood Walk Of Fame, which he proudly received on January 31, 2005.

In December of 1999, amidst the people's joy in celebrating Christmas, Keanu had to face a sad occurence as his actress girlfriend Jennifer Syme gave birth to their stillborn daughter they planned to name Eva Archer Syme-Reeves. ...