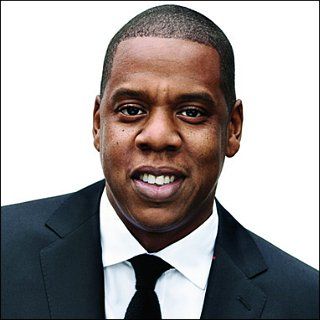 Profile
---
Famous as :
Rapper

Birth Name :
Shawn Corey Carter

Birth Date :
December 04, 1969

Birth Place :
Brooklyn, New York, USA

Claim to fame :
Single "Dead Presidents" (1996)


He and Beyonce Knowles won the No. 1 spot on Forbes' list of Hollywood's 20 Top-Earning Couples, earning $162 million between June 1, 2007 and June 1, 2008.
He was one of the World's Most Influential People in 2005 by Time magazine.
He and Beyonce Knowles were given a fake fur throw as a wedding present by People for the Ethical Treatment of Animals (PETA) in April 2008.
Ranked 2nd in Esquire Magazine's fourth annual Best Dressed Men in the World list in August 2007.
Teamed up with Coca-Cola, helped launching its Cherry Coke line in TV commercials and having his Rocawear label designed the soft drink's new cans as well (January 2007).
Having his Rocawear clothing label inked a licensing deal with cosmetics giant Elizabeth Arden to unveil new men's and women's fragrances, cosmetics, and skincare products (November 2007).
Voted the 1st in Forbes magazine's "Hip-Hop Cash Kings" list in August 2007 with an estimated earning of $34 million by 2006.
Was one among the many musicians contributed to Notorious B.I.G.'s "Duets: The Final Chapter" (2005).
Writes his own cover story in the VIBE Magazine.
Is the 1st non-athlete to have his own signature sneaker, the S. Carter, by Reebok.
Appointed as the new president and CEO of Def Jam Recordings.
Is one of the founders of Roc-a-Fella Records.
Often been called "The God MC."
Ranked 9th on Forbes magazine's "100 Most Powerful Celebrities" annual list in June 2007, with earning an estimated $83 million.
He along with girlfriend Beyonce Knowles were named the Sexiest Couple in the so-called "What is Sexy?" list compiled by Victoria's Secret in April 2007.
Sold his clothing company "Rocawear" to Iconix Brand Group for $204 million in cash (March 2007).
Teamed up with General Motors (GM) in creating a new sport utility vehicle (SUV), called "Jay-Z Blue" (January 2007).
Along with girlfriend, Beyonce Knowles, earned the Big Power Couple honor at the "VH1 Big In '06 Awards", held December 3rd in Culver City, California.
Included in GQ magazine's 11th annual Men of the Year list in November 2006.
Has been hired by Anheuser-Busch as the new co-brand director for its beer line called Budweiser Select (Oct 2006).
Launched a contest for the new theme song of NBA's New Jersey Nets (February 2006).
Named International Man of the Year during GQ magazine's awards ceremony held at the Royal Opera House in Covent Garden in September 2005.
Announced in September 2005 with P. Diddy their $1 million joint donation to the American Red Cross to help victims of Hurricane Katrina.
His 2004 album "Collision Course" with Linkin Park successfully reached Platinum by August 2005.
Partnered with watchmaker Audemars Piguet to create a limited-edition timepiece, which is a series of 100 watches that will retail for between $23,500 and $69,500 with a portion of the proceeds to benefit the S. Carter Scholarship Fund (April 2005).
Joined forces with the United Nations and MTV to film a documentary, titled "The Diary of Jay-Z: Water for Life", slated to air November 24, 2006, about the lack of accessible fresh water around the world.
Celebrated the 10th anniversary of his first album, "Reasonable Doubt" (1996), at a concert held June 25th, 2006 at Radio City Music Hall in New York.
He has three different nicknames; Jigga, Jay-Hova, and Hova.
He has conflict with rapper Nas.
He discovered rapper Malicious Jynx.
He is a 'ghostwriter' for Foxy Brown, Ma$e, Dr. Dre, etc.
Jay-Z business empires include: Roc-A-Fella Records, Roc-A-Wear Clothing, Roc-A-Wear Films, Armadale Vodka, and a sport bar called 40/40 Club.
He is the first hip hop artist to have his own Showtime TV concert special aired live.
Jay-Z's partners in his early group "Original Flavor" are Damon Dash and Kareem 'Biggs' Burke.
He is the 1st hip hop artist to be featured on TV program "60 Minutes II."
Prince Charles invited Jay-Z and girlfriend Beyonce Knowles to dine at Buckingham Palace.
His autobiography entitled "The Black Book."