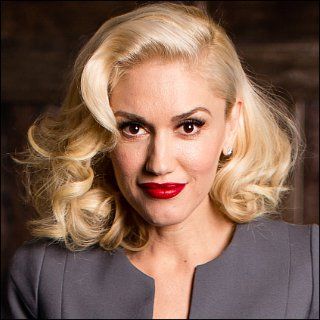 Profile
---
Famous as :
Singer

Birth Name :
Gwen Renee Stefani

Birth Date :
October 03, 1969

Birth Place :
Fullerton, California, US

Claim to fame :
Lead singer of the band No Doubt


She and Gavin Rossdale won the 7th spot on Forbes' list of Hollywood's 20 Top-Earning Couples, earning $28 million between June 1, 2007 and June 1, 2008.
Picked 5th on Maxim magazine's list of 9 Hottest Pregnant Women, Ever (November 2007).
Was chosen as one of the 19 top shoe designers to use her expertise to redesign Dorothy's ruby red shoes from the classic film "The Wizard of Oz" to commemorate the 70th anniversary of the film (July 2008).
Included in People magazine's list of The Best Dressed Stars of 2007, named the Trendsetter.
Chosen the 10th in In Touch magazine's list of Hollywood's Hottest Blondes in March 2007.
Was the 10th Best Dressed Woman according to a poll conducted by UK Glamour magazine in January 2007.
Set up the so-called Gwen Stefani After-the-Fires Scholarship, which is aimed to benefit graduating high school seniors and college students whose families either lost their homes or source of income in the San Diego wildfires happened in October 2007.
Was one among famous figures included in the Vanity Fair's 67th annual International Best-Dressed list.
Donated all proceeds from her show at San Diego's Cox Arena on October 30, 2007 to the San Diego Foundation, a local charity which is helping the community recover from the wildfires that have raged across Southern California during the month.
Spent 20,000 pound sterling on a baby shower, held in a Los Angeles mansion two months before her baby, Kingston James, was due.
The vinyl red gown she wore on the cover of No Doubt's "Tragic Kingdom" was stolen from the Fullertown Museum Centre in Orange County, United States.
She, husband Gavin Rosdale, and son Kingston are chosen as Hollywood's Best Looking Family in a poll conducted by In Touch Weekly in May 2007.
Has her home used in a music video for a song from Rufus Wainwright's self-titled debut album.
Tells Harper's Bazaar in its May 2007 issue that she's been dieting since she was in the sixth grade.
Became the coach of 6th cycle American Idol's 10 finalists in the pop theme night.
Voted the No. 8 Best Dressed Female in a poll conducted by American publication Life & Style in December 2006.
Inked a deal with Coty Inc. to create her own line of signature perfumes under her L.A.M.B. imprint which is expected to debut in fall 2007.
Teamed with Huckleberry Toys to launch a line of limited-edition "Love.Angel.Music.Baby" dolls that will be dressed in the styles she and her Harajuku Girl dancers worn on her tour.
Is the No. 8 Entertainer of the Year based on a poll conducted by Entertainment Weekly (2005).
Shares two homes with husband Gavin Rossdale; one in the Los Feliz neighborhood of Los Angeles and the other in London.
Made a quick cameo appearance in the movie "Zoolander" (2001).
Her acting debut was in the 2004 Martin Scorsese movie "The Aviator," playing Jean Harlow.
Her impersonator are sometimes referred to as "Gwennabes" or "Gwenabees."
Lent her voice to the title character of Malice, a PS2 and Xbox video game, though the company previously insisted not to use No Doubt band-members' voices.
Her favorite bands are 311, Blur, Radiohead and Jamiroquai.
Named Best Dressed Woman in the May 2005 issue of Harpers & Queen.
Is the friend and collaborator of rapper Eve.
Was inspired by such musicals, as "The Sound of Music" (1965), and "Annie" (1982).
Has her own fashion line named L.A.M.B, offers various clothes, handbags, and purses, which goes on sale in Spring 2004.
Has become the first artist in history to win both Best Male Video and Best Female Video awards at the 2001 MTV VMAs.
Duets with Moby on "Southside" and with rapper Eve for "Let Me Blow Ya Mind."
Her wedding dress was designed by John Galliano.
Arrived an hour late for her wedding.
Held her marriage in two elaborate ceremonies, in London and Los Angeles.
Met future husband, 'Bush' guitarist Gavin Rosdale, at a concert she was playing with No Doubt in 1996.
Many songs in "Tragic Kingdom" album were inspired by her relationship and breakup with fellow band member Tony Kanal, whom she dated for 8 years.
In her every performance she always appears with red lips and platinum blond hair.
Became No Doubt lead singer after its original frontman, John Spence, committed suicide in December 1987.
Got her earliest job scrubbing floors at a Dairy Queen and working at a local department store.
Was listed as one of high school swimming team members because she was chubby.
Her nickname is Sunshine and G-loc.
Is a distant cousin of Madonna. Her great-aunt's mother-in-law shares the last name with Madonna.