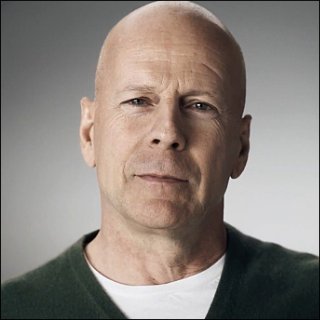 Profile
---
Famous as :
Actor

Birth Name :
Walter Bruce Willis

Birth Date :
March 19, 1955

Birth Place :
Idar-Oberstein, West Germany

Claim to fame :
As David Addison Jr. in TV series "Moonlighting" (1985-1989)


Chosen 5th on Forbes' list of Hollywood's Best Paid Actors, raking in an estimated $41 million between June 1, 2007 through June 1, 2008.
Was honored on Oct 16, 2006 with star No. 2,321 along the Hollywood Walk of Fame.
Did his own stripping in 1996 at "Late Night Show with David Letterman" (1993) in order to promote Demi Moore's "Striptease" (1996).
Met a producer when he was tending a bar in Cafe Central, NY. He became a bartender after showing lack of skill in being a waiter.
Was a talented wrestler in his high school days, but suffered a serious sprain that needed a surgery and left a scar on his right shoulder.
Is admired by pop singer Nick Lachey.
7 of his films had numbers in them: "The First Deadly Sin" (1980), "Twelve Monkeys" (1995), "Four Rooms" (1995), "The Fifth Element" (1997), "The Sixth Sense" (1999), "The Whole Nine Yards" (2000), and "The Whole Ten Yards" (2004).
Was made an officer by France's Order of Arts and Letters in April 2005 to represent the force of American cinema and the power of emotions throughout the world.
Was the only star to come in Julia Robert's wedding to photographer, Daniel Moder.
Worked twice each with 8 directors: Blake Edwards, Amy Heckerling, Rob Reiner, Robert Benton, John McTiernan, Alan Rudolph, M. Night Shyamalan and Quentin Tarantino.
Was invited to Demi Moore's and Ashton Kutcher's wedding.
Was chosen as the special ambassador in his birth town Idar-Oberstein since his 50th birthday.
Was the first star to act in a video game by he lending his voice and body movement for Trey Kincaide in action game "Apocalypse".
Replaced David Letterman at the last minute as the host of "Late Night Show with David Letterman" on February 26, 2003 where he supposed to be the guest.
Claimed that he suffered from extreme mental, physical and emotional pain after filming "Tears of the Sun" (2003) and sued Revolution Studios for the damage done.
Secured third place in the 2003 Star TV's "Top 10 Box Office Stars of the 1990s".
Was titled "Man of the Year" by Harvard University's Hasty Pudding Theatricals in 2002.
Turned down the role as Terry Benedict in "Ocean's Eleven" (2001) and later Warner Bros recruited Andy Garcia for the role.
His younger brother, Robert died in 2001 at the age of 42 due to pancreatic cancer.
Recommended Michael Clarke Duncan to fill in the part of John Coffey in "The Green Mile" (1999).
Appeared in series six of sitcom "Friends" (1994-2004) as Rachel Green's short-term boyfriend.
Crowned #22 as "The Top 100 Movie Stars of All Time" by Empire (UK) magazine in 1997.
Is an avid supporter of United States Republican Party and supported most of Republican candidates except for Bob Dole who opposed Demi Moore's enrollment in "Striptease" (1996).
Wears his wrist watch inside out and the habit can be seen in his movies "Die Hard: With a Vengeance" (1995) and "Mercury Rising" (1998).
Owns The Mint bar, the Liberty Theater and Hailey Drug Store in Hailey, Idaho, but the latter has gone idle since the early 1990s.
Was paid $5 million for "Die Hard" (1988) and it set up the standard salary for actors.
Brought a warm and humorous trait to the cold and dull character John McClane in "Die Hard" (1988).
Provided the impromptu of John McClane's short jokes in "Die Hard" movies.
Suggested personally to use Bonnie Bedelia as his on-screen wife in "Die Hard" (1988).
Often thrown out of parties when he was young by being intolerable, very much similar to his character in "Moonlighting" (1985).
His album "The Return of Bruno" (1987) became a surprise seller after the single "Respect Yourself" hit # 5 in early 1987.
Wears four earrings in his left ear sometimes.
Selected as student council president when he was in Penns Grove High School, New Jersey.