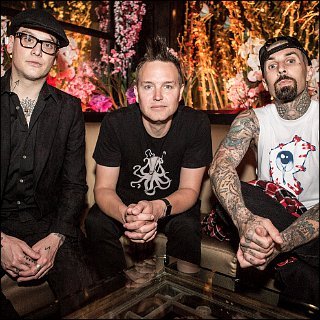 Profile
---
Famous as :
Punk band

Birth Name :
Blink

Birth Date :
1992

Birth Place :
San Diego, California

Claim to fame :
Demo tape "Buddha" (1994)


Biography
---
by AceShowbiz.com
---
Blink-182, formerly known as simply Blink, is a Southern-Californian punk rock band that was formed in 1992 by Tom Delonge and Mark Hoppus. The group is notable for the lyrical content of their songs which is humorous and often uplifting. The history of Blink began in 1992 when Hoppus moved to San Diego, California, and was thinking of starting a band, and was fortunately introduced to Delonge. The two of them later decided that they needed to look for a drummer, and DeLonge discovered Scott Raynor at his school who played drums. Thus the three of them started considering a number of names, before they agreed to call themselves just "blink." So, they started a trio band, which later on consists of Thomas (Tom) Matthew DeLonge on guitar, Markus (Mark) Allan Hoppus on bass, and Travis Landon Barker on drums.

Towards the end of 1992, the band released an EP known as "Flyswatter," which was recorded using a boom box in Scott's bedroom, because of which the sound quality was poor. Before the end of the year, the band released another demo cassette, which was dubbed "Buddha." Compared to the previous record, this demo was better as around 1,000 copies of this were eventually produced by Cargo Filter Records. And in early 1994, Blink released their first full-length album "Cheshire Cat" with Grilled Cheese Records. The album contained many new versions of songs that had appeared on the "Buddha" demo. From this point on, the group did quite well, so they started to think about further records and believed that their hopes and dreams could soon come true.

Unfortunately, shortly after they outed "Cheshire Cat," Blink were threatened with legal action brought by a techno band in Ireland of the same name. In order to avoid a lengthy lawsuit, blink added the numbers 182 to the end of their name. Many questions raised on the added number, which all the band members insisted to be picked randomly. That being so, the trio started their career as Blink-182.

During the punk rock boom of the 1990s, Blink-182 were signed by MCA and received wide exposure, touring with established punk groups, like Pennywise and NOFX on the 1996-1997 Warped Tour. Apart from that, they were also widely known in the skating and snowboarding scenes from their appearances in related videos and live events. After moving to Encinitas, California, the band recorded their ...