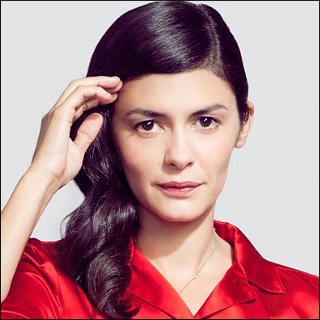 Profile
---
Famous as :
Actress

Birth Name :
Audrey Justine Tautou

Birth Date :
August 09, 1976

Birth Place :
Beaumont, Puy-de-Dome, France

Claim to fame :
As Amelie Poulain in "Amelie" (2001)


Being appointed in May 2008 as the new face of Chanel iconic No. 5 perfume, replacing its longtime model Nicole Kidman.
Was presented with the Suzanne Bianchetti Award at SACD Awards in 2000 for being France's Most Promising Young Film Actress.
Has become a member of the Academy of Motion Picture Arts and Sciences (AMPAS) after being invited to join the organization in June 2004.
Her last name, Tautou, was used as the title of a Brand New's song which became the first track of their 2003 album, "Deja Entendu."
Became the Golden Satellite Award nominee of Best Performance by an Actress in a Motion Picture, Comedy or Musical category at the 2002 Satellite Awards for her role in "Amelie" (2001).
Gained a nomination in the category of Best Breakthrough Performance at the 2002 Online Film Critics Society Awards for her role in "Amelie" (2001).
Received the Best Actress nomination at Lumiere Awards and Empire Awards in 2002 also at European Film Awards held in 2001, 2003, and 2005. She won one at the former event.
Was named Most Promising Performer at CFCA Awards and Best Foreign Actress (Mejor Actriz Extranjera) at Sant Jordi Awards in 2002.
Earned the 29th rank in Stuff Magazine's list of 102 Sexiest Women in the World by 2002.
Surprisingly was not recognized in Indonesia when she went on a trip there with her sister after the success of "Amelie" (2001).
Did not attend the private screening of "Amelie" (2001) which was organized and attended by President Jacques Chirac because she already had an engagement with her brother.
Was cast as the title role in "Amelie" (2001) after director Jean-Pierre Jeunet saw her picture on a billboard of "Venus Beauty Institute" (1999) near his home in Bastille.
Replaced Emily Watson to play Amelie Poulain in "Amelie" (2001) after the actress dropped out from the project.
Gained the title of Best New Actress at the 1999 Cabourg Romantic Film Festival for her role in "Venus Beauty Institute" (1999).
Almost lost the chance to star in "Venus Beauty Institute" (1999) as she came one-hour late to the audition. Fortunately director Tonie Marshall was willing to give her a try.
Played oboe during her time in a youth orchestra.
Her favorite films are "A bout de souffle" (1960) and "Barry Lyndon" (1975).
Was born on the same date and month as actor Robert Shaw also soccer players Filippo Inzaghi and Michael Silvestre were.
Loves to paint and her favorite painters include Turner, Manet, Schiele, Ingres, and Delacroix.
Admires Julianne Moore, Jodie Foster, Meryl Streep, Paul Newman, and Juliette Lewis.
Was once told by a medium that she would be a mother of twins at age 30.
Her favorite authors include Paul Auster, Oscar Wilde, also Victor Huge while her favorite poets are Charles Baudelaire and Tristan Tzara.
Speaks fluent English and German.
Her favorite music composers are Frederic Chopin, Mozart, and Ravel.
Likes to take picture of every reporter she has been interviewed by and keeps them in a scrapbook to review later.