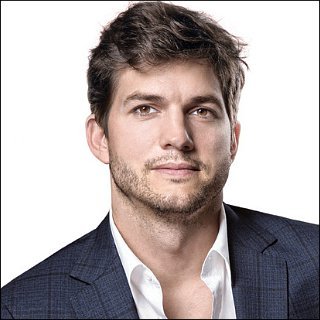 Profile
---
Famous as :
Actor

Birth Name :
Christopher Ashton Kutcher

Birth Date :
February 07, 1978

Birth Place :
Cedar Rapids, Iowa, USA

Claim to fame :
As Michael Kelso in TV series "That '70s Show" (1998 - 2005)


He and wife Demi Moore chosen the No. 6 Best Dressed Couple in the World in the poll by Vanity Fair magazine in July 2007.
Comes in 3rd place in People magazine's list of Sexiest Men Alive for 2006.
Brought home Choice TV Personality award for "Punk'd" at the 2006 Teen Choice Awards held August 20th in Los Angeles.
Appeared on the cover of Details magazine in its September 2006 issue.
Lost to Orlando Bloom the role of Drew Baylor in "Elizabethtown" (2005) since director Cameron Crowe wanted an actor who had a solid resume consisting of theatre and drama school training.
Has signed a deal with Warner Bros network in 2005 to make a comedic reality series entitled "Fountain of Youth" together with his producing partner, Adam Goldberg.
Was nominated for Worst Actor at the 2004 Razzie Awards for his roles in his 2003 film productions of "Cheaper by the Dozen", "Just Married", and "My Boss's Daughter."
Won the online poll held by People magazine as the Hottest Bachelor in 2003, beating Prince Williams.
Was named one of the 25 Hottest Stars Under 25 by Teen People Magazine in 2000 and 2002.
Was included in People magazine's list of 50 Most Beautiful People in the World by 2000.
Was one of the 21 Hottest Stars Under 21 according to Teen People Magazine in 1999.
Appeared in a National Pizza Hut commercial, a NYU student film entitled "Distance," and a CK Jeans campaign.
His favorite movies include "Forrest Gump" (1994), "The Shawshank Redemption" (1994), "The Usual Suspects" (1995), "Boogie Nights" (1997), "Gladiator" (2000), and "Scary Movie" (2000).
Was named Hollywood's Most Romantic Couple, along with Demi Moore, by Touch Magazine in early Sept 2005.
Topped the list of Power-Wielding Players in Young Hollywood compiled by Teen People in 2005.
Was nominated in four categories at Teen Choice Awards held in 2004 for Choice Movie Hissy Fit, Liplock, TV Personality, and Best Reality/Variety TV Star. He brought home the latter two.
Was nominated for Favorite Movie Actor at Kid's Choice Awards in 2004.
Gained a nomination for Best Male Newcomer at Las Vegas Film Critics Society Awards in 2000 through "Dude, Where's My Car?" (2000).
Added 20 pounds to his weight for his role in "The Guardian" (2006).
Garnered 7 nominations at the 2005 Teen Choice Awards in the categories of Choice Movie Actor: Comedy, Blush Scene, Chemistry, Dance Scene, Hissy Fit, Liar, and Rumble.
His favorite accessories are vintage belt and shell necklace.
Likes to watch Regis Philbin's "Who Wants To Be A Millionaire?" (1999-2002).
Love fishing, bowling, watching football, shooting hoops, surfing the web for MP3's, driving his off-road vehicle, playing the guitar, traveling, and hanging out with the cast of "That '70s Show" (1998).
His wedding with Demi Moore on September 24, 2005 was attended by Moore's former husband, Bruce Willis, and Lucy Liu.
Has been the face of Zoo York clothing by 2004.
Ranked 3rd on VH1's list of 100 Hottest Hotties in 2003.
Lost the role of Captain Danny Walker in "Pearl Harbor" (2001) to Josh Hartnett.
Was labeled Most Ravishingly Cute Young Actor by Movieline in 2000.
Was named one of BOP's 20 Hottest Guys Ever, 16's 25 Cutest Guys Ever, and E!'s Sixteen Sizzlers in 1999.
Was selected as the MVP of MTV's Rock-n-Jock Bowling Ball in 1998.
Is the tallest member of the cast of Fox's comedy series, "That '70s Show" (1998).
Was on number 35 on Premiere Magazine's 50 Most Disturbing Moments in Movie History without any explanation why he had been included in the list.
Joined the Delta Chi Fraternity when entered University of Iowa.
Donated his blood for money in order to pay his college fee.
Had undergone various jobs, like sweeping discarded Cheerios from the floor at a local General Mills plant, skinning deer for the butcher, and washing dishes.
Was caught red-handed to steal money from the vending machines in his high school, so he was thrown out from the school's stage production of "Annie" in which he was supposed to play Daddy Warbucks.
Appeared as a thief in his school's production of "The Crying Princess and the Golden Goose" when he was in 7th grade.
His favorite singers are Fine Machine, Dave Mathews Band, and Hole.
His favorite books are "Where the Red Fern Grows", "Many Lives", "Many Masters", and "Mutants Down Under."
His favorite color is red.
His favorite outfit are Levi's Engineered Jeans, T-Shirt, and sandals.
Was often spotted wearing the same beaded necklace in pictures and interviews.
Has a niece named Dakota who is his sister's daughter born in 1999.
Was the roommate of Riley Smith.
His favorite actresses are Maureen McCormick, Meg Ryan, Claire Danes, Kristy Swanson, Julia Roberts, Jennifer Aniston, and Marilyn Monroe.
Has a Jeep and a 1998 Dodge Durango.
His favorite actor is Tom Cruise.
Likes to play chess, golf, and games.
Is a best friend of Wilmer Valderrama.
His pets include a cat named Fido and a golden retriever called Bojangles.
Has two toes on his left foot that stick together.
Is the owner of Dolce, a restaurant in Los Angeles.
Has the same birthday with black comedian Chris Rock.
Is of Irish and Native American descent.