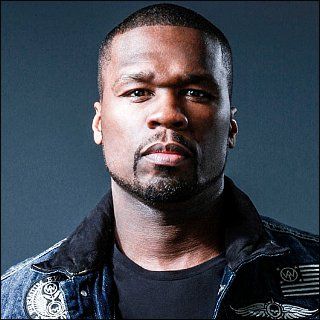 Profile
---
Famous as :
Hardcore rapper

Birth Name :
Curtis James Jackson III

Birth Date :
July 06, 1975

Birth Place :
Queens, New York, USA

Claim to fame :
Album "Get Rich or Die Tryin" (2003)


Inked a multi-year deal with Steiner Sports in May 2008 to sell his memorabilia, including his autographed photos, movie-related products, concert-worn apparel, and his other branded products.
Teamed up with high-profile car maker Pontiac to produce his own customized G8 sedan (November 2007).
50 Cent appeared on the "8 Mile" (2002) soundtrack that immediately went into heavy rotation across the country.
Voted 2nd in Forbes magazine's "Hip-Hop Cash Kings" list in August 2007 with an estimated earning of $32 million by 2006.
Both the audio and music video for 'Follow My Lead' leaked online on August 10, 2007, just a few days after 'Ayo Technology' was premiered.
Attended a book signing at New York's Borders bookstore on January 4, 2007 to mark the launch of a series of his fictional books, based on former members of his group G-Unit, including "Death Before Dishonor", "Baby Brother" and "The Ski Mask Way".
Had a copyright infringement lawsuit, accusing him of stealing the opening line for his 2003 hit "In Da Club" from a song by former 2 Live Crew frontman Luther Campbell, dropped on Oct 27, 2006.
Briefly arrested Sept 8th, 2006 in New York City, cited for making an unsafe lane change, as well as driving without his license, vehicle insurance and registration.
Secured the 8th position on Forbes magazine's annual list of the World's 100 Most Powerful Stars (June 2006).
Launched a nationwide cooking contest to help high school kids control obesity by improving their eating habits that will award $100,000 in college scholarship to the student chef who creates the most "nutrient-rich" cafeteria lunch recipe (April 2006).
His album "The Massacre" topped the 2005's global charts at 3rd position, sold 7.5 million copies worldwide.
Leads the Top 10 Best-Selling Albums of 2005 at No. 2 with his album "The Massacre" sold for 4.85 million copies.
Placed 2nd on Yahoo's annual list of the Most-Searched for Names on the Internet (Dec, 2005).
50 Cent bought a multi-million dollar mansion, which was once owned by Mike Tyson.
This rapper avoids both alcohol and smokes.
50 Cent has actually wanted to be a heavyweight boxer and he, for a short period of time, ever did it.
His mother was killed in a drug deal at the age of 23. 50 Cent was only 8 years old at the time. Since then he was raised by his grandparents.
50 Cent holds the record for most songs on the Billboard Music charts at the same time with 9 songs.
In February 2005, 50 Cent guest starred on an episode of The Simpsons' "Pranksta Rap".
After his feud with a member of G-Unit record label, The Game, 50 Cent held a press conference to announce their reconciliation. Despite the truce, they now appear distant from one another.
50 Cent has a rivalry with former allies Shyne, Jadakiss, Nas, and Fat Joe. Nas was claimed to have made disparaging comments about him and G-Unit while performing at a New York concert.
"Piggy Bank" was recorded to attack Jadakiss and Fat Joe for their association with Ja Rule.
A television advert for Reebok, which featured 50 Cent, was recently taken off air in the United Kingdom. However, Reebok still continues to endorse 50 Cent's product for the sales remain excellent.
In its first week of release, 50's first major label debut "Get Rich or Die Tryin'" has been sold 872,000 units. In 2004, the album was certified six times platinum.
Before starting the production of his new album with Eminem and Dre, 50 Cent quickly released another album "No Mercy, No Fear" with its only single "Wanksta". It was later added to Eminem's hit movie soundtrack "8 Mile" and became the most requested son
50 Cent was engaged in a well-publicized dispute with rival rapper Ja rule and his label Murder Inc. Records before later signing to Eminem and Dre's label.
His son Marquise appeared in the song "Wanksta".
In Summer Jam XI concert in New York, 50 Cent and G-Unit were forced to leave the stage for safety reason after speaking out against R. Kelly's pending child pornography trial. They were also booed off at the Reading festival while on tour in England as
50 Cent launched a new Charitable Organization called G-Unity, aimed at helping the less fortunate in the inner cities.
An outcoming video game called "50 Cent: Bulletproof" will be released in fall 2005. It will be available on the Playstation 2, the Xbox, and the Playstation Portable.
His anticipated album "The Massacre" was originally entitled "St. Valentine's Day Massacre". The title changed as the album was pushed from a February release date to March.
In November of 2003, G-Unit released their debut album "Beg for Mercy" and sold over two million copies. The success of this album led Reebok to release a line of G-Unit Sneakers.
50 Cent has invested in his clothing "G-Unit" and in bottled water. He also linked to Reebok to release his own G-Unit Sneakers.
50 Cent has his own rap group called G-Unit, short for Guerrilla Unit, which consists of 50 Cent, Lloyd Banks, Tony Yayo, and Young Buck.
In 2003, Interscope granted 50 Cent his own record label "G-Unit Records" after the success of "Get Rich Or Die Tryin'".
His unofficially released album "Power of the Dollar" was an instant hit for New York radio.
He once signed to Run DMC's Jam Master Jay "JMJ", but later left the label for Columbia Records in 1999 with a little help from the all-star hip-hop production duo Track Masters.