From Demi Moore announcing her plan to divorce Ashton Kutcher to Ryan Dunn tragically killed in a car crash, these are the 10 shocking moments that stole the headlines in the past 12 months.
After a relatively "tame" 2010, the glitzy and blitzy world of high-profiled celebrities unfolds a year full of shocking headlines in 2011. Startling splits, tragic deaths, public meltdown and controversial wedding are just some of the stories that stole the headlines and kept people glued to certain famous figures throughout the past 12 months.
As the year came to a close, AceShowbiz returns with its annual top 10 picks of Most Shocking Celebrity Stories of the Year.
Demi Moore
's decision to divorce
Ashton Kutcher
amidst cheating rumors on his side, kicks off the list that culminates with the ultimate image-smearing confession from an A-lister.
#10 Demi Moore Announced Plan to Divorce Ashton Kutcher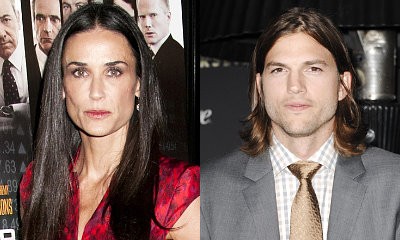 Witnessing the passion she shared with
Ashton Kutcher
for years, who would have thought that
Demi Moore
finally gave up on her younger husband. Since the beginning of their romance, the couple has been met with skepticism for their 15-year age difference. But, their love for each other seemed to overcome the odds. They were even united when fighting off a cheating scandal in 2010. It wasn't until Ashton was hit with another affair rumor that the strain in their marriage began to show. In September, Demi tweeted a cryptic Twitter message that read, "I see through you." Days later, Sara Leal came out with a claim that she had sex with Ashton. The actor played a denying game in the beginning before keeping his mouth shut. Nearly two months later, Demi publicly announced she has "with great sadness and a heavy heart" decided to end their six-year marriage.
#9 Russell Brand Filed for Divorce From Katy Perry
It takes
Russell Brand
and
Katy Perry
less than a month to go from "happily married" to "divorcing". The "
Rock of Ages
" star and the "Teenage Dream" hitmaker have been plagued with split rumors ever since they tied the knot in October 2010, but the two brushed them off on-and-on again. Their most recent denial was on November 30 when Perry tweeted, "First I'm pregnant & then I'm divorced. What am I All My Children ?!" Brand then declared he's "really happily married" during a visit to "
The Ellen DeGeneres Show
". Days later, the pair held hands and even shared kiss at a charity event's red carpet. Despite the efforts, speculations that they weren't as problems-free as they showed grew stronger. On December 30, just days after it was unraveled that they spent Christmas 3,000 miles apart and were snapped ringless, Russell filed for divorce from Katy, ending their 14 months of marriage.
#8 Amy Winehouse Found Dead in Her Bedroom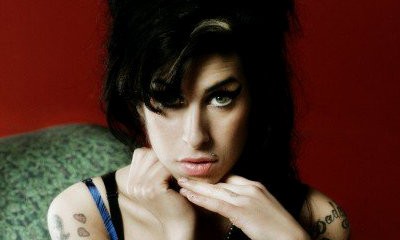 Some may argue that
Amy Winehouse
's death was not unforeseen. It can't be denied that the singer, who ironically claimed international fame with a single called "Rehab", has been dealing with substance abuse problems for years. Still, when news broke out on July 23 that the 27-year-old singer was found dead in her North London apartment, many expressed their disbelief that she's gone so soon. Among those were best friend
Kelly Osbourne
who said, "I can't even breathe right now I'm crying so hard," and frequent collaborator
Mark Ronson
who tweeted, "This is one of the saddest days of my life." Many were quick to suspect that the Grammy winner died of drug overdoes, and early reports suggested she purchased narcotics the night before. It wasn't until months later that pathologist revealed trace of illegal drugs wasn't found in her system and British coroner ruled her death as an "unintended consequence" of accidental alcohol poisoning.
#7 Hugh Hefner's Wedding Canceled Just Days Before the Big Day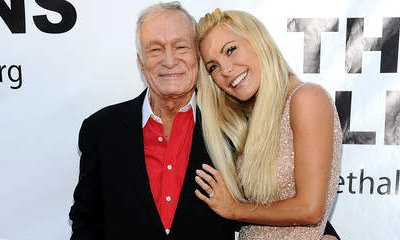 Hugh Hefner
fell victim to a runaway bride? The Playboy founder got engaged to former Playmate
Crystal Harris
on Christmas night, December 25, 2010, and arranged for their wedding to be held at the Playboy Mansion in Los Angeles on June 18 this year. But, the plan went awry just five days before the big day when, out of the blue, Crystal decided to call off their engagement and move out of the mansion. The formerly engaged couple never revealed the real reason behind the wedding cancellation, but with him being 85 years old and her being 25 years old, age seemed to be a problem for her. A little more than a month after breaking up, Crystal claimed in a radio interview that she has never seen Hef naked. She further dissed her former fiance by saying that they only had sex once and it lasted "like two seconds." In his defense, Hef tweeted, "Is she trying to impress a new boyfriend?"
#6 Middle-Aged Doug Hutchison Married a 16-Year-Old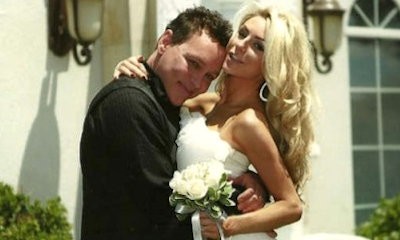 Doug Hutchison might not be the name most people are familiar with, but his Las Vegas wedding to a teenager in May really put him on the map. The 51-year-old actor, best known as Horace Goodspeed on "
Lost
", quickly drew firestorm of questions about the legality of his marriage when people found out that his bride, Courtney Stodden, was only 16 years of age at the time they said their "I do's". Though condemned by his own mother, agent and manager for the union and their 35-year age gap, he got the approval from Courtney's parents to marry their child. He also answered critics by stating that he and his wife "want to get the message out there that true love can be ageless." After revealing on "Good Morning America" in July that it was Courtney who made the first move toward romance, Doug insisted in another interview there was "nothing inappropriate" about their courtship.
#5 Charlie Sheen Got Fired From "Two and a Half Men"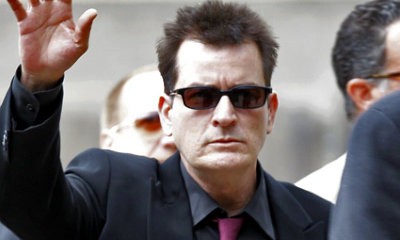 Who ever thought that
Charlie Sheen
finally ran out of his luck with "
Two and a Half Men
"? The TV star might have "trouble" as his middle name, but he has helped the series to become one of America's hit comedy series for the past eight years. His Charlie Harper's charm, however, didn't lessen the damage he caused when he publicly made derogatory remarks about series creator Chuck Lorre for suspending the filming of the show to allow him to deal with his substance abuse issues in rehab. On a February 24 radio interview, the youngest son of actor
Martin Sheen
branded Chuck a "stupid, stupid little man and a p**sy punk". Following the attack, CBS announced "Men" producers had ceased production for the rest of season 8. Less than two weeks afterward, on March 7, Warner Bros. Television terminated his contract for disrupting the show and violating a clause in his contract by committing "a felony offense involving moral turpitude."
#4 Justin Bieber Embroiled in Paternity Scandal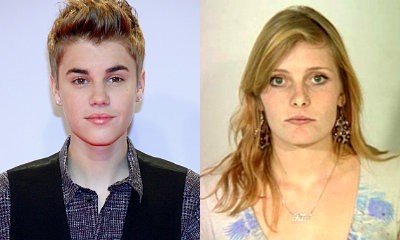 Justin Bieber
had a love child with a fan? It was the claim that dropped the jaws of many Beliebers this year. On October 31, the "Baby" hitmaker was slapped with a paternity lawsuit by Mariah Yeater, who claimed that she had sex with the pop sensation after his sold-out Staples Center concert in Los Angeles, and as a result of the 2010 backstage fling, he fathered her 3-month-old baby boy. Justin's camp was quick to deny, but Mariah was stern in her demand for him to take a DNA test notwithstanding the slew of death threats she received from Justin's devoted fans and the possibility of being investigated for statutory rape. The turning point in the baby drama came in mid-November. Shortly after Justin confirmed he would take the paternity test, Mariah had her lawsuit withdrawn by the attorneys representing her and, with her new team of lawyers, attempted to settle the case out of court. Justin took the DNA test a couple of days later, and the scandal died down.
#3 Kim Kardashian Ended Marriage After 72 Days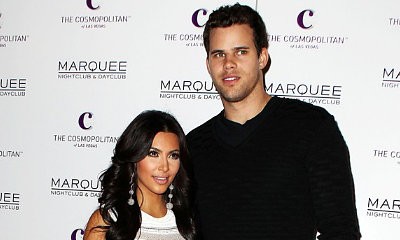 Short-lived marriage is not something unheard of in Hollywood.
Kim Kardashian
, however, took it to a whole new level. After just three months of engagement, the "
Keeping Up With the Kardashians
" star married her NBA player fiance
Kris Humphries
on August 20, and she made sure it was a day to be remembered as she threw away more than $10 million dollars for a lavish and elaborate wedding. If anyone thought it would keep her away from rushing out of love, they were definitely up for a shocker. Exactly 72 days later, the TV personality filed for divorce. While her new husband responded by expressing his heartbreak, Kim simply said in her statement, "I had hoped this marriage was forever, but sometimes things don't work out as planned." The buzz soon grew that her wedding alone was no more than a publicity stunt, but she defended herself by stressing, "I would not have spent so much time on something just for a TV show!"
#2 Ryan Dunn Killed in Drunken Car Accident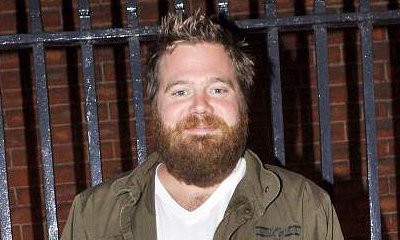 Ryan Dunn made his name performing dangerous stunts as a member of the "Jackass" crew, but nobody would ever imagine he died the way he did. The 34-year-old daredevil and the passenger of his 2007 Porsche 911 GT3 were killed in a fiery crash after his car swerved off the road, collided with a guardrail, crashed in the woods and burst into flames in the early morning of June 20. Michael Carroll, chief of the West Goshen Township Police Department, said it was the "worst" accident he'd ever seen. He added, "I've never seen a car destroyed in an automobile accident the way this car was even before it caught on fire." It was later determined that he was traveling at almost 130 mph when the accident took place. Many of his co-stars were devastated by the tragic news.
Bam Margera
, in particular, couldn't hide his grief as admitting to E! News, "I can't stop crying man. I just don't think it should've been him."
#1 Arnold Schwarzenegger Confessed of Having a Love Child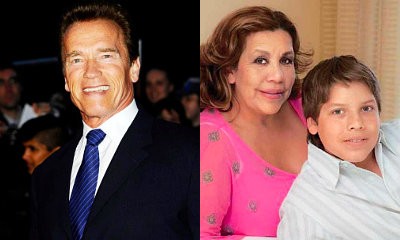 The biggest shocker of the year came from
Arnold Schwarzenegger
. As a Hollywood star turned California governor, the "Terminator" lead had crafted a spotless public image as a loving husband and father, even more so in the past seven years. But, on May 9, he and his wife of 25 years, Maria Shriver, made public their decision to separate. In their joint statement, the estranged couple said, "At this time, we are living apart while we work on the future of our relationship." It didn't take long for Arnold to drop an even bigger bombshell. In fact, it was a week after the split announcement that the former bodybuilder revealed he had fathered a child with a longtime member of his and Maria's household staff. "There are no excuses and I take full responsibility for the hurt I have caused," he said at the time. "I have apologized to Maria, my children and my family. I am truly sorry."