About This Video
---

This Movie Info
---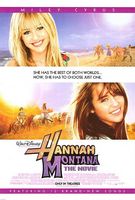 Walt Disney Pictures takes the Disney Channel phenom to the big screen in a feature film extravaganza. Miley Stewart (Miley Cyrus) struggles to juggle school, friends and her secret pop-star persona; when Hannah Montana's soaring popularity threatens to take over her life-she just might let it. So her father (Billy Ray Cyrus) takes the teen home to Crowley Corners, Tenn., for a dose of reality, kicking off an adventure filled with the kind of fun, laughter and romance even Hannah Montana couldn't imagine.
Comments
---

how do you download this???
posted by

mcdlove

on Oct 26, 2009

ta nuta jest kosiorska:D a clip jeszcze lepszy!!!:D pozdro dla sluchaczy!!!!!!
posted by

HM!

on Oct 05, 2009

i can't find my words... it's amazing...
posted by

babygirl

on Sep 03, 2009
also y'all are awesome and you rock!
posted by

miley cyrus

on Aug 12, 2009
hey y'all im glad to see that y'all like the song the climb hopefully you can buy the cd and the movie when it comes out.peace out and rock on! -Miley Cyrus
posted by

miley cyrus

on Aug 12, 2009

itz an xelent song..i luv ds song
posted by

ana

on Jul 24, 2009

i live this song my favorite song by miley cyrus
posted by

vampirehorsel

on May 23, 2009

i have a crush on miley
posted by

Joshua bhati

on Apr 30, 2009

awwwsmmm...
posted by

the climb

on Apr 29, 2009

Miley z so coool I love all her songs....:-)
posted by

seychelles

on Apr 08, 2009
i love Miley soooooo much
posted by

...

on Mar 31, 2009

I love Miley. What MileyFan said was totally right. People shouldn't be rude to her and her fans. Miley's amazing! This vid rox! Fan for life.
posted by

MilHannahFan1

on Mar 25, 2009

LOL! I meant the music they listen too. But I totally can't wait till thew movie! And the video really expresses who she is, what she stands for, and who she intends on being. I always was made fun of for liking her, but why not like her? This video is FABULOUS! ~ =)
posted by

MileyFan

on Mar 01, 2009

this video is so far the BEST new video she's done! I really like this song, and the rope swing and horses part! :D Defiantly *****!!! ~ And why are people so rude to her and the people that like her? I mean the kinds of things that the people that are saying that are WAY worse! And i mean, why did they sue her because she made a funny face by pulled her eyes out saying "I'm asian" and calling it racest? I'm sure EVERYONE has done that before!!! Or is it just a rumor? Well either way, it's stupid! But the video is AWESOME!
posted by

MileyFan

on Mar 01, 2009

I want see this film because she is my favourite star...:DDD
posted by

Maria Stella Sonia

on Feb 25, 2009

ok will everybody please stop criticizen miley i mean come on she apoigized and i think she is a really good person who just made a few mistakes but WE ALL MAKE MISTAKES
posted by

xplosionhanna4@aol.c

on Feb 24, 2009

OMG i asolutly looooovvvvveeeee this video its AWESOME
posted by

xplosionhanna4@aol.c

on Feb 24, 2009

i dont like miley too much as a person but i love her music
posted by

theONLYmrsJOEjonas

on Feb 24, 2009

Where I can download this video? Love it! :)
posted by

<3

on Feb 20, 2009
LOVE SO MUCH THIS SONG!!!!!!!!!!!!!!!!!!!!
posted by

Christinia5

on Feb 19, 2009

ok - I'm a Miley fan again... Great video - really cute costar for her, can't wait to see the movie!!
posted by

ugakc

on Feb 17, 2009

This video made people think about this movie
posted by

Karstarz

on Feb 17, 2009

Miley has done alot of mistacks in her life but this song spoke up to me.we all made mistacks and I think this music video was her way of saying she made lot of mistacks and she is sorry.
posted by

girl that speeks th

on Feb 13, 2009

OMG Hope people stop criticisng her she apoligised but people still hate her but LOVELY SONG
posted by

TeenMania1- Find Me

on Feb 13, 2009

I had tears in my eyes, this song really speaks to me, Miley has a beautiful voice and is a beautiful person, I cannot wait for the movie!
posted by

Hez

on Feb 13, 2009

Love It
posted by

Delsy

on Feb 13, 2009

Miley sounds and looks beautiful! Great song and video. I can't wait to see the movie...
posted by

GailB

on Feb 12, 2009

I think this is one of the best songs for Miley. I haved liked many of them. I cant wait to see this movie. Miley and her dad Billy Ray will make a wonderful combination for this movie. hope the song and video do make it to #1 as that is where it belongs.
posted by

llbrcfan

on Feb 12, 2009

This song is beautiful and the video is awesome. I love Miley's voice and she has her Dad's charisma. The Hannah Montana movie looks like it will be great. I can hardly wait to see it. Billy Ray has always been my favorite country artist and it will be great to see Miley and Billy Ray up on the big screen. This song and video should reach #1 for sure. Love it!
posted by

charmak

on Feb 12, 2009