About This Video
---

This Movie Info
---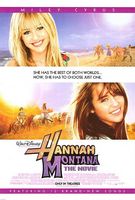 Walt Disney Pictures takes the Disney Channel phenom to the big screen in a feature film extravaganza. Miley Stewart (Miley Cyrus) struggles to juggle school, friends and her secret pop-star persona; when Hannah Montana's soaring popularity threatens to take over her life-she just might let it. So her father (Billy Ray Cyrus) takes the teen home to Crowley Corners, Tenn., for a dose of reality, kicking off an adventure filled with the kind of fun, laughter and romance even Hannah Montana couldn't imagine.
Comments
---

miley you rock
posted by

riya

on Jun 21, 2009

WAT UP PPL!! LUV THIS SONG!!! I LUV HANNAH MONTANA
posted by

MUNA

on May 17, 2009

LOOOOOOOOOOOOVE IT LYK SOOOO MUCH!!!MY TOTAL FAV SONG! TOTALLY! ROCK ON miLEY!!!! =)
posted by

fLORA

on May 17, 2009

I love her!
posted by

Facundo

on Mar 24, 2009

you are so cool. i love you and your song...
posted by

mandy

on Feb 13, 2009

miley you rock, and you are really really preatty.I love your music.
posted by

milley

on Feb 13, 2009

that was the most amazing music video ever.let's get crazy is the best one ever and the climb.
posted by

kamkamspark8

on Feb 13, 2009

i am going to murder you next time i see you.
posted by

funse

on Feb 11, 2009

I abseloutly love this song and you Miley/Hannah <333333
posted by

Hannah Montana<3

on Feb 07, 2009

hi my name is rico and i love these videos soo what do i get??????
posted by

i love hannah

on Jan 25, 2009

ilove miley cyrus so much and icant wait to see hannah montana the movie
posted by

dina

on Jan 23, 2009

i love your song your songs are so cool i thick that your move is going to be so cool love your songs my name is natasha marcano and i am 12 yeo old by!!!!!!!!!!!!!!!!!!!!!!
posted by

miley cyrus

on Jan 22, 2009

i am a big fan i am 12 yoe old big fan
posted by

miley cyrus

on Jan 21, 2009

i like the song, but it was kinda blurry
posted by

xoxohorseluvr123

on Jan 20, 2009

Miley I love your songs!!!!!
posted by

jessica h.

on Jan 20, 2009