About This Video
---
This Movie Info
---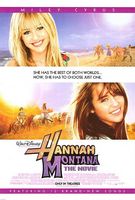 Walt Disney Pictures takes the Disney Channel phenom to the big screen in a feature film extravaganza. Miley Stewart (Miley Cyrus) struggles to juggle school, friends and her secret pop-star persona; when Hannah Montana's soaring popularity threatens to take over her life-she just might let it. So her father (Billy Ray Cyrus) takes the teen home to Crowley Corners, Tenn., for a dose of reality, kicking off an adventure filled with the kind of fun, laughter and romance even Hannah Montana couldn't imagine.
Comments
---

I love her so much. She is the best singer that I have ever known
posted by

adsl

on Dec 31, 2009

i love you miley......I found you I was amazed I love you very very much ..........
posted by

nimic

on Dec 29, 2009

i love you forever....miley...you are so cute...
posted by

syirah

on Sep 16, 2009
is that her sister in the background playing gutiar with the blonde hair at 0:20 - 0:24 ???
posted by

~amberr!!!~

on Jul 13, 2009
she is the best i love you
posted by

hannan montaner

on Mar 28, 2009

i love her
posted by

hannan montaner

on Mar 28, 2009

i love miley cyrus i m the biggest fan of her
posted by

HITESH

on Feb 27, 2009

i love you hannah montana
posted by

shahad

on Feb 18, 2009

OMG I CAN"T WAIT, i love the song " crazy "! i can't wait to hear the full version =D
posted by

Gustavo

on Jan 19, 2009

I like it better than her earlier music, but its still hannah montana...
posted by

Billy Bob Joe Frank

on Dec 20, 2008