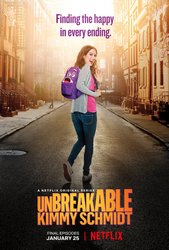 TV Info
---
Category
TV Series
Genre
Comedy
Starring :
Ellie Kemper
, Tituss Burges, Sara Chase, Lauren Adams,
Jane Krakowski
, Andy Ridings, Dylan Gelula

November 22, 2014 08:11:07
Tina Fey
and Robert Carlock's new comedy "
Unbreakable Kimmy Schmidt
" was once set for a midseason on NBC but it now belongs to Netflix. The major move came after the Peacock left it off the network's fall schedule.
"Unbreakable Kimmy Schmidt" follows
Ellie Kemper
's Kimmy, who was rescued from a cult, along with a few other women. Their story became national news, with Kimmy having been part of this cult for the last 15 years. She decided to reside in NYC to work as a nanny as she took control of her life with a renewed and optimistic spirit.
...