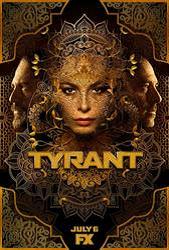 TV Info
---
Category
TV Series
Genre
Drama
Seasons
2
Production Co.
Fox 21, Keshet Broadcasting
Distributor
FX
Official Site
click here

The Story
---
Tyrant is the story of an unassuming American family drawn into the inner workings of a turbulent Middle Eastern nation. Bassam "Barry" Al-Fayeed (Adam Rayner), the youngest son of a war-torn country's controversial dictator, returns to his homeland after a self-imposed 20-year exile in America, only to be forced back into the treacherous familial and national politics of his youth. When his brother, Jamal (Ashraf Barhom), assumes the presidency, Barry becomes a powerful force within the government, fueled by visions of bringing humanitarian freedoms to his homeland.
Upon realizing that Jamal lacks any sense of justice or morality, Barry colluded with members of the U.S. government on a failed attempt at overthrowing his tyrannical reign and was arrested on charges of treason. Having been betrayed by the West, Jamal now sets his sights on the East, developing an alliance with China that he hopes will make Abbudin a global power. But Barry continues to be a thorn in Jamal's side, becoming a symbol of freedom for the increasingly vocal insurgency.
The Stills
---