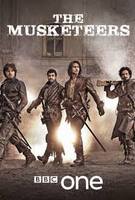 TV Info
---
Category
TV Series
Genre
Drama
Seasons
2
Production Co.
BBC Worldwide Productions
Distributor
BBC America
Official Site
click here

Cast and Crew
---
Main Cast
Luke Pasqualino as D'Artagnan
Tom Burke
Santiago Cabrera
Howard Charles
Peter Capaldi as Cardinal Richelieu
Maimie McCoy
Tamla Kari
Hugo Speer
Ryan Gage
Alexandra Dowling
The Story
---
The Musketeers, is set on the streets of seventeenth century Paris, where law and order is an idea more than a reality. In addition to being King Louis XIII's personal bodyguards, Athos, Aramis and Porthos stand resolutely for social justice, honor, valor, love - and for the thrill of it. Luke Pasqualino (Skins, The Borgias) stars as D'Artagnan alongside Tom Burke (Great Expectations, The Hour) as Athos, Santiago Cabrera (Merlin, Heroes) as Aramis and Howard Charles (Royal Shakespeare Company) as Porthos. Peter Capaldi (Doctor Who, The Hour, The Thick Of It), Maimie McCoy (Loving Miss Hatto), Tamla Kari (Cuckoo, The Inbetweeners Movie) and Hugo Speer (Bedlam) also star in the 10-part series created by Adrian Hodges (My Week With Marilyn, Primeval). The Musketeers premieres Summer 2014 on BBC AMERICA.
D'Artagnan, a skilled fighter from rural Gascony, meets the three Musketeers while on a mission to right the wrong of his father's death. Although he meets the men in unfortunate circumstances, he finds kindred spirits in the other soldiers. Athos, who has rejected his noble roots to become a Musketeer, quickly befriends D'Artagnan, but has a past which is shrouded in mystery, and is prone to getting in trouble.
Porthos is a larger-than-life character, who has come from humble beginnings to become a soldier in the most elite regiment in the land, finding a family in the other Musketeers. Never short of admirers, Aramis has an effortless charm which leads him in and out of love. Despite this, he is a shrewd pragmatist who is ferocious in battle and commands a key place in the brotherhood.
Constance Bonacieux (Tamla Kari) leads a dull but comfortable life married to a cloth merchant, but her life is turned upside down when D'Artagnan tumbles into her world, and she becomes involved with the Musketeers.
Cardinal Richelieu (Peter Capaldi), while striving to achieve his vision of a thoroughly modern France, is a shadowy character who will stop at nothing to achieve his objectives. Milady (Maimie McCoy) is the Cardinal's secret weapon, the most mysterious and beautiful of villains whose motives are often concealed.
The King relies on the advice of the Cardinal, his shrewd wife Queen Anne and also Captain Treville (Hugo Speer), the brave and respected commander of the Musketeers who keeps an eye on the soldiers to ensure they stay out of trouble. The series bursts with escapism, adventure and romance and is set to thrill audiences with riveting stories every week.
The Stills
---