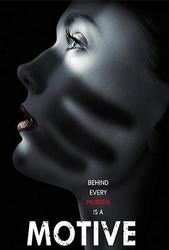 TV Info
---
Category
TV Series
Genre
Drama
Seasons
2
Production Co.
Bell Media, Foundation Features, Lark Prod.
Distributor
ABC
Official Site
click here

The Story
---
From Daniel Cerone, the executive producer of Dexter and The Mentalist, comes Motive, a thrilling crime drama with a unique twist focusing not on who did the crime, but why the crime was committed in the first place.
When murder is committed, Angie Flynn, a loving, single mother and a damned good homicide detective, along with her partner, Detective Oscar Vega, are on the case, looking for clues that will lead them to the killer. But "Motive" turns the tried-and-true crime drama formula on its head by identifying the Killer and Victim at the beginning of each episode. As the mystery unfolds, winding between revealing flashbacks and present time, viewers will navigate the twisted and complicated maze of each murder, solving the puzzle alongside Detective Flynn and her team, piecing together more of the mysterious connections that drove the Killer to commit murder.
Rounding out the homicide team are Dr. Betty Rogers, a medical examiner with a quirky sense of humor that belies the grimness of her daily job; Staff Sergeant Boyd Bloom, the Squad Room Supervisor, who was sidelined from the streets a few years earlier by a bullet; and Detective Brian Lucas, a young detective who is eager to learn from the best and is fascinated about the often grisly procedures.
Angie doesn't suffer fools or authority figures lightly; her disarming, street-smart attitude often leads criminals and co-workers alike down the garden path, only to realize later that they've made a major mistake by taking this sexy, sassy force-of-nature at face value. At home Angie only wants the best for her teenage son, Manny, who is one of the few things in life that she feels she did right. But as far as Manny's concerned, being the son of a cop is not the easiest gig in the world.
The Stills
---