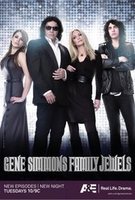 TV Info
---
Category
Reality TV
Genre
Reality, Music
Seasons
7
Production Co.
A Day With, A&E, Big Machine Design, Gene Simmons
Distributor
A&E
Official Site
click here

The Story
---
Dad is Gene Simmons - the legendary, tongue wagging demon of KISS. Mom is Shannon Tweed -- former Playmate Of The Year, actress and model. And their kids, Nick and Sophie, are, well...surprisingly charming, well-behaved teenagers dealing with the trials and tribulations of adolescence, even though Mom and Dad are like no one else's parents.
Gene and Shannon have been happily UNmarried for 22 years and have no plans of getting married any time soon. Gene is a rock star, and a multi-media magnate. He is also the kind of dad who brings Gatorade to his daughter's soccer games and stands in the front row of his son's rock band when they play gigs. This series will reveal the side of Gene that he has kept hidden until now, and shows how the most non-traditional, traditional family in America manages to make it work under the oddest of circumstances.
Gene Simmons is co-founder of KISS, a band which has broken box office records worldwide set by Elvis and the Beatles and has 2,500 licensed and merchandised products, from KISS VISA cards to KISS condoms (www.GENESIMMONS.com). Gene also runs Simmons Records, Simmons Audio Visual and Gene Simmons Game magazine. He is Chairman of a forthcoming television network and is busier than ever in another of his new ventures: SIMMONS ABRAMSON MARKETING, which handles worldwide branding/marketing and branding for the Indy Racing League.
The Stills
---