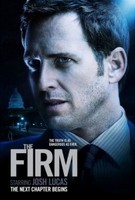 TV Info
---
Category
TV Series
Genre
Drama, Action
Seasons
1
Production Co.
Entertainment One TV, Paramount Pict, Sony Pict TV
Distributor
NBC
Official Site
click here

The Story
---
"The Firm" is drama based upon the 1991 John Grisham novel of the same name and its 1993 Grisham film adaptation. Picking up 10 years after the events of the 1993 feature film, this new series finds lawyer Mitch McDeere (Josh Lucas), who worked with the FBI to bring down a Memphis law firm associated with the Chicago mob, coming out of near total isolation after his family spent a decade in the Federal Witness Protection Program.
The McDeeres are ready to return to their old lives and leave the past behind them - but the mob has a long memory. Add that to Mitch's new association with another firm that may or may not be involved in something illicit, and the path ahead is dangerous and unknown. As old enemies return and new threats emerge, Mitch has no choice but to fight back if he ever hopes to return to some sense of normalcy. But can one man fight a criminal conspiracy? At least Mitch has one thing going for him: he's done it before.
The Stills
---