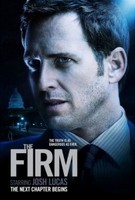 November 26, 2011 10:11:58
Gearing up to welcome the midseason, NBC has released the first two promos for its new series "
The Firm
". The videos do not explain the plotline, but manage to give a taste of how intense the story will be.
In one promo, a group of lawyers are discussing how much Mitch McDeere knows the truth about a case they handle. They apparently did something bad and face the risk of being jailed. In another sneak peek, Mitch looks panicked and is worrying about his safety. "It's happening again," he tells his wife Abby over the phone.
...
June 02, 2011 09:06:42
NBC's "
The Firm
" may have found its Mitch McDeere in
Josh Lucas
. The 39-year-old is said in final negotiations to star on the drama series which is based on
Tom Cruise
-starring movie and John Grisham's best-selling novel of the same title.
The TV adaptation picks up a decade after the events in the film and novel. Having just emerged from the Federal Witness Protection program, Mitch now reclaims his family's lives and their future only to find that past dangers are still lurking and new threats are everywhere.
...