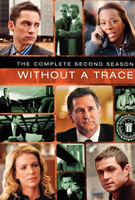 TV Info
---
Episode Premiere
January 06, 2009

Distributor
CBS, WBTV, TNT

Genre
Drama

Show Period
2002 - 2009

Production Company
Jerry Bruckheimer TV, CBS, WBTV, Jumbolaya Prod.


Cast and Crew
---
Screenwriter
Alicia Kirk
Main Cast
Additional Cast
Michael Wiseman
Kathleen Wilhoite
Maggie Wheeler
Synopsis
---
Divorced mom SHERI STEVENS unexpectedly shows up at Webster Junior High to pick up her daughter DAPHNE (13). When Sheri suggests an impromptu shopping trip, Daphne is puzzled - it's not her mother's visitation day. But Sheri wins over her daughter with promises of fun. As the two walk to Sheri's car... they vanish.
Our agents quickly realize they have a custodial kidnapping on their hands. Four months earlier, Sheri had lost custody of Daphne in a brutal divorce proceeding. According to Sheri's ex-husband RICK, she lost it for good reason - she has a history of depression and instability. Is Sheri capable of doing her daughter harm? The agents track Sheri down to a bus station - she had planned to flee with her daughter and start a new life - but Daphne is gone. She has run away from her mom.
As our agents try to determine who she might have run to or who might have abducted her, a portrait emerges of Daphne as a latchkey kid, ignored and used as a pawn in her parents bitter divorce. The case takes an ominous turn when her parents are sent a disturbing video made by Daphne telling them not to look for her. Did she make the video on her own? Or did her quest for love and attention lead her into the arms of a dangerous predator? Our agents must race against time, filling in the blanks of Daphne's secret life, in order to save her before she's lost forever...