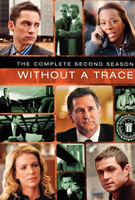 TV Info
---
Episode Premiere
November 22, 2007

Distributor
CBS, WBTV, TNT

Genre
Drama

Show Period
2002 - 2009

Production Company
Jerry Bruckheimer TV, CBS, WBTV, Jumbolaya Prod.


Cast and Crew
---
Director
Jeannot Szwarc
Screenwriter
David H. Goodman
Main Cast
Additional Cast
James Molina
Georgia Hatzis
Justin Shilton
Sunny Mabrey
Scott William Winters
Synopsis
---
Ultimate fighter Brett Hendricks battles against a ferocious opponent in front of a rabid crowd. With a vicious move, Brett knocks the other fighter out. Brett pumps a victorious fist in the air, and as he watches the enthusiastic crowd cheer his name, he vanishes.
When the agents find an empty syringe in the arena locker room, it looks like this was a preplanned abduction. Brett's sister and housemate, Sarah, testifies that, although he's a good guy, Brett has a bad temper and that recently he has been behaving strangely. He appeared to need money, because Sarah caught him trying to steal jewelry from her, but when she asked him why he did it, Brett wouldn't explain. Brett's trainer, Don Foster, tells the agents that Brett probably needed money to support his big plan for early retirement. Further investigation reveals that Brett had become friendly with Foster's girlfriend, Keira, and the agents discover that he recently stole her car. Keira tells the agents that she has been trying to help Brett work through his anger issues, which stem from his having been severely bullied as a child. A search of Keira's car reveals a cache of weapons hidden in the trunk: Brett stole the car to get the guns. The agents find the former bully, now a peaceable religious man, who recently had a confrontation with Brett about the fact that Brett had stolen guns from his trainer, Foster. The agents finally uncover the truth: Brett has been trying to help Keira get away from Foster and his gunrunning business, and when Foster found out, he killed Brett and threatened to kill Keira if she told the truth. Guest star Adam Kaufman.
While this case is unfolding, Samantha tracks down the father of her unborn child, a bartender with whom she had a fling but hasn't been in contact with since. She visits him at home, asking him to sign a paper waiving any parental rights, but he demurs, telling her he wants to talk it over later.