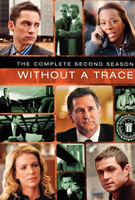 TV Info
---
Episode Premiere
February 18, 2007

Distributor
CBS, WBTV, TNT

Genre
Drama

Show Period
2002 - 2009

Production Company
Jerry Bruckheimer TV, CBS, WBTV, Jumbolaya Prod.


Cast and Crew
---
Director
Eriq La Salle
Screenwriter
David Amann
Main Cast
Additional Cast
William Romeo
Bryce Johnson
Nathan Baesel
David DeLuise
Allen Cutler
Synopsis
---
The New York City Wastewater Treatment System exists in the dark dank catacombs deep beneath the city streets. These tunnels are worked by tough blue-collar men, however, recent budget cuts and the looming specter of privatization are forcing these men out of work. Facility manager, Jason Hill, has the unenviable task of executing these forced lay-offs. It's made him a lot of enemies among the rank and file. When he informs a WORKER (54) of his dismissal things get nasty. The pathetic severance package is an insult to a man who has given thirty-three years of his life to the job. Jason agrees, but these orders come from above. The worker flies into a rage and security drags him out leaving Jason alone and dejected. Then, he vanishes.
Initially, our agents believe his disappearance is related to the lay-offs. They question several former employees, each with an axe to grind, but our investigation soon takes a turn when we discover Jason Hill is not who he says he is. His real name is Jason Turner, and until two years ago he'd been living in Arizona. Is this a man who simply wanted a fresh start? Or is Jason hiding and if so why? As our team works the case from New York, two agents travel to Arizona to find out Jason's true identity. After peeling back the layers of Jason's life, a portrait emerges of a working-class young man once living a normal life in Arizona. But two years ago something changed. As the investigation deepens, we uncover Jason's role in a desperate crime that turned violent. Since then, Jason has worked hard to blend into his new life. But when we uncover a mysterious trip home, it becomes clear that Jason's old life has come back to haunt him. Did Jason's past finally catch up with him? Or is there someone he simply could not leave behind? One thing is certain: That mysterious trip home set in motion a dangerous chain of events that will force Jason to reconcile his violent past once and for all.